Losartan Lawsuit Attorneys
Losartan is a popular medication used to treat hypertension, among other things. It is generally safe, but the FDA recently found multiple batches of the generic version made by numerous companies unacceptable because they were contaminated with N-nitrosodimethylamine (NDMA), a toxic carcinogen.
If you took Losartan and have been diagnosed with cancer, contact the defective drug attorneys at Spiros Law, P.C. to discuss your situation with us right away. Call us today at (815) 929-9292 or click here to schedule your free consultation.
What Is Losartan?
L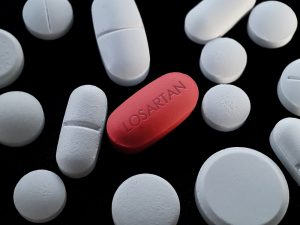 osartan is an angiotensin receptor blocker ("ARB") that relaxes blood vessels so blood can more easily flow through them. As the blood vessels relax, blood pressure lowers, and oxygen and blood supply to the heart increase.
Losartan is used alone or with other medications to treat high blood pressure (hypertension). Another use is to decrease the risk of stroke in people with high blood pressure or who have left ventricular hypertrophy (enlargement of the left side of the heart). It also can help treat kidney disease in patients with type 2 diabetes and high blood pressure.
FDA Issues Recall of Losartan Products
The U.S. Food and Drug Administration ("FDA") has issued many continuing recalls of generic Losartan since 2018. The FDA discovered potentially cancer-causing impurities in the drug.
The recalled drugs are laced with traces of N-nitrosodimethylamine (NDMA), N-Nitrosodiethylamine (NDEA), or N-Nitroso-N-methyl-4-aminobutyric acid (NMBA). These chemicals are carcinogens. NDEA is an ingredient in rocket fuel and can cause liver and blood cell damage.
In a recent FDA press release, the agency said, "We are deeply concerned about the presence of a third nitrosamine impurity in certain ARB medications, but it's important to underscore that, based on the FDA's initial evaluation, the increased risk of cancer to patients with NMBA exposure appears to be the same for NDMA exposure but less than the risk from NDEA exposure. That said, any presence of such impurities in drug products is not acceptable."
What Are the Consequences of Exposure to NDMA?
Acute exposure to these toxic substances can cause symptoms such as the following:
  Headache
  Jaundice
  Fever
  Nausea
  Vomiting
  Abdominal cramps
  Dizziness
  Reduced function of the kidney, lung, or liver
  Enlarged liver
  Liver fibrosis
Long-term exposure to NDMA can include severe health issues, and other ARB medications can increase cancer risk.
Which Manufacturers Were Involved in the Losartan Recall?
Over 500 batches of Losartan have been recalled. Manufacturers with recalled Losartan include the following:
  AvKare (Torrent)
  Camber Pharmaceuticals, Inc.
  Golden State Medical Supply (Teva Pharamceuticals USA, Inc.)
  H J Harkins Company Inc dba Pharma Pac (Camber)
  Heritage Pharmaceuticals Inc (Vivimed)
  Legacy Pharmaceutical Packaging, LLC (Hetero/Camber)
  Legacy Pharmaceutical Packaging, LLC (Torrent)
  Macleods Pharmaceutical Ltd.
  PD-Rx Pharmaceuticals Inc
  RemedyRepack Inc. (Torrent)
  Sandoz Inc.
  Torrent Pharmaceuticals Limited
The recalled medication had expiration dates between 2019 and 2021 and was prescribed in doses ranging from 25 mg to 100 mg. You can check the FDA's website to see if your medication was subject to a recall.
Am I Eligible for Compensation?
Depending on the circumstances, you might be eligible to seek compensation for your illness from the pharmaceutical company. Mass torts are claims in which a large group of injured people brings claims together into one lawsuit against a defendant. They differ from class actions in that each person's claims are dealt with individually, with individual consideration for liability and damages. In class actions, all the cases are combined and decided together. In a mass tort, your injuries do not have to be the same as each other plaintiff. In a mass tort, the plaintiffs must have similar circumstances.
The types of damages available in a defective drug mass tort include the following:
  Lost wages (both past and future)
  Medical bills (both past and future)
  Pain and suffering, including emotional distress
  Loss of enjoyment of life
Statute of Limitations For a Losartan Cancer Lawsuit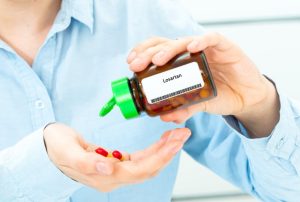 A statute of limitations is the timeframe to file a lawsuit before you are forever barred from seeking recovery in court. In Illinois, the statute of limitations is two years. It generally begins running two years from your date of injury. But there are two exceptions, and if either applies, it could extend the statute of limitations.
One exception is the discovery rule. The discovery rule does not start the clock on the two-year statute of limitations until the injured person either knows or reasonably should have known about the product's harmful effects. Even with the discovery rule, a lawsuit cannot be filed more than eight years after the injury occurred.
The other exception is the statute of repose. The statute of repose allows a lawsuit "within 12 years from the date of the first sale … by a seller or 10 years from the date of first sale … to its initial user, consumer, or other non-seller, whichever period expires earlier … unless the defendant expressly has warranted or promised the product for a longer period and the action is brought within that period."
What Should I Do If I Have Taken Recalled Losartan?
If you have taken recalled Losartan, you should talk to your doctor before you stop taking the product. When issuing the recall, the FDA advised anyone taking Losartan to continue using it until one's doctor tells them to stop since there may be significant risks in suddenly stopping.
Next, contact an experienced defective drug attorney to discuss your rights and legal options. The Losartan injury attorneys at Spiros Law, P.C. have extensive experience handling these types of cases. Call us at (815) 929-9292 for a free consultation today if you took recalled Losartan. We can evaluate your case and help you determine if you may have a claim.