Savoy Personal Injury Lawyers
If you have been injured in an accident in Savoy, Illinois, you may be struggling with physical and emotional injuries, overwhelming medical expenses, and lost wages. If the injury was caused by another person's negligence you may be entitled to compensation.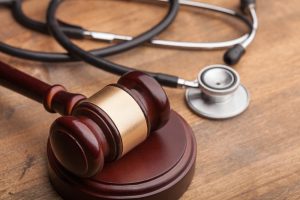 Personal injury law allows an individual to file a civil lawsuit for damages that stem from an incident caused by the negligence of others. The experienced Savoy personal injury attorneys at Spiros Law, P.C. have been helping injured people for many years. Our legal team fights to protect the rights of our clients and works to get them the help they need after an accident or injury.
There are several different situations where the rules of personal injury apply. This includes accidents, intentional acts that harm others, defective products, and defamation. A defamatory statement is a false statement made about you that harms your personal or professional reputation. It can cause other damages as well, including financial loss and emotional distress.
Practice Areas
When choosing a personal injury attorney, it's important to work with someone who has experience and expertise with your situation. The attorneys of Spiros Law, P.C. have had years of experience helping clients in the following types of personal injury cases:
Why Choose Spiros Law, P.C.?
Our legal team has helped clients throughout Illinois, and we have received referrals from other attorneys from across the country. In total, the firm has won over $100 million in the past ten years in personal injury claims. We have been successful because our team is committed to zealously advocating on every client's behalf.
It's important to us that we protect the rights of our clients and ensure that they receive the compensation they're entitled to under the law. We are proud of the work we've done for our clients, which has helped families recover from their financial losses. Your first priority is to recover from any injury or accident, and our first priority is to ensure you have the highest caliber legal representation to protect your rights.
Without proper legal representation, you may fall deeper into debt while pursuing legal action and covering your medical expenses. The Savoy, Illinois, personal injury attorneys at Spiros Law, P.C. can help protect your livelihood. Contact us today at (217) 443-4343 for a free consultation.
What to Do if You've Been Injured
It is important to take the right steps after an injury or accident to help protect your legal rights. If you or a loved one has been injured, it is crucial you seek medical attention as soon as possible. This is essential for your health since some injuries may not be evident for hours or days after an accident. Seeking treatment immediately also protects your rights in a legal case.
If you refuse treatment or do not see a physician, the court may see this as evidence that your injuries were not severe. It is also essential that you follow your doctor's orders. This can include taking prescription medication, following up on referrals to a specialist, or attending rehabilitation sessions.
The at-fault party's insurance company may send an insurance adjuster to ask you questions or offer an initial settlement. You should only speak with an insurance adjuster with your Savoy personal injury attorney from Spiros Law, P.C. present. Adjusters are skilled negotiators and seek to limit the financial liability of their clients and their companies.
At no time during any conversation with anyone should you admit fault. You have the right not to implicate yourself. In other words, especially when the fault for the accident is not immediately clear, do not make any statements that could conceivably be understood to mean that you were at fault.
After an accident, make sure that an incident report is filed with the right authorities. For example, if you've had a car accident, then a police report should be filed. If you had an accident at work, then an incident report should be filed with your employer.
If you're able, get photos at the scene of the accident. Include the relevant license plates and other important factors that will help your legal team gather the necessary evidence. Exchange contact information with the at-fault party and any witnesses on the scene.
After the accident and as you are recovering, steer clear of social media and avoid posting any pictures of yourself. Insurance adjusters are adept at finding evidence they believe demonstrates that your injury was not as bad as you say it is. Images can be taken out of context and may imply that you are not injured.
Why Use a Personal Injury Attorney?
Accidental injuries are not uncommon in Illinois. The highest majority of personal injury actions happen after car accidents. After you've been injured or were in an accident, it's likely you have questions. The sooner you engage the services of an experienced personal injury attorney, the more efficiently your case can be resolved.
You may question whether you need a personal injury attorney to handle your case. Starting without a lawyer can lead to complications in the claims process as it progresses. It's important to understand what's at stake should your case be mishandled. There are very few instances when you should handle your personal injury claim without an attorney.
Personal injury lawsuits must be filed in Illinois within two years of the date of the accident. This is the statute of limitations on personal injury cases in civil court. In some cases, the court allows a discovery rule. This means the time allowed by the statute of limitations begins to run when the injuries are discovered, rather than on the date of accident.
During your free consultation, we will review the facts of your case and advise you when the statute of limitations will likely expire. We will also advise you on your next best steps to protect your legal rights. If we believe that you can handle the case independently, we'll tell you that too. In other words, you have nothing to lose and everything to gain by scheduling your free consultation with Spiros Law, P.C..
You don't need to fight this battle on your own. After being injured in an accident that wasn't your fault, you've been through enough with the physical and emotional repercussions of the injury. Our legal team can offer you the services of private investigators, legal nurse consultants, and associates who gather evidence and information to support your claim. Our resources allow us to do accident reconstruction, find witnesses, and engage expert witnesses to testify on your behalf. Our reputation of protecting our clients is built on our combined decades of working with clients just like you.
Give yourself a break. Call Spiros Law, P.C. at (217) 443-4343 today and let us get to work pursuing the compensation you need now.