Burn injuries can leave you with physical and psychological scars. You may also be faced with lost wages, overwhelming medical bills, and pain and suffering. If you have suffered a burn injury as the result of someone else's negligence, you may be entitled to compensation for these and other losses. Each year, roughly 450,000 burn injuries seek medical treatment, and fire and smoke inhalation are responsible for roughly 3,000 deaths.
The Kankakee personal injury attorneys of Spiros Law, P.C. are dedicated to protecting your rights and ensuring that you receive fair compensation for your injuries. During your free consultation, we can evaluate the specifics of your case and advise you on what your next best steps could be. We have experience working with clients who've suffered burn injuries. These often leave long-term effects that include emotional, as well as physical, wounds. After the initial burn, you may experience secondary skin infections that may be expensive to treat and can be life-threatening.
The reckless behavior of individuals or companies can cause accidents that trigger burn injuries. If you or a loved one has been injured because of another person's negligence or reckless act, contact the legal team at Spiros Law, P.C.. Our attorneys will aggressively fight to seek justice and fair compensation for your injuries. Contact us today for a free consultation and discover how we can help. Call us at (815) 929-9292 or fill out our online form to set up your free appointment.
Why Do I Need a Lawyer? Why Choose Spiros Law, P.C.?
After a burn injury, you may be overwhelmed by the prospect of filing an insurance claim with the at-fault party's insurance company or filing a personal injury lawsuit against the wrongdoer. Insurance companies have lawyers to protect their legal rights. They may also send an insurance adjuster to ask you questions about the accident or offer a settlement.
It is crucial that you do not speak with an insurance adjuster without your attorney present. Insurance adjusters are skilled negotiators whose goal is to protect the financial liability of their client and their company. Your Kankakee personal injury attorney from Spiros Law, P.C. can communicate with the insurance adjuster for you. This helps prevent you from accidentally incriminating yourself or taking on partial liability for the accident unintentionally.
Legal proceedings can be confusing, overwhelming, and sometimes tedious. The personal injury attorneys at Spiros Law, P.C. can give you all the assistance you need to protect your rights and pursue the compensation you deserve. Our lawyers are personally invested in your case and want to ensure that you receive personalized care and attention.
We recognize that every story is unique, and we want to hear yours. Your lawyer will gather information from you about the accident, which will help to build a case that supports your rights. We believe that negligent individuals or companies should be held responsible for their actions. If you have a burn injury that was caused by the negligent act of another person, contact us today. When you have an experienced personal injury attorney fighting for your rights, you have peace of mind that your case will be handled skillfully.
Causes and Severity of Burn Injuries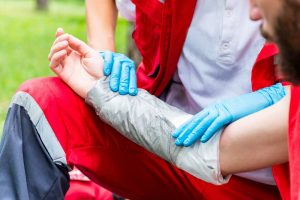 Burn injuries can happen for many different reasons. However, they often have one thing in common. Burns can be the result of someone else's negligence or reckless behavior. Burn injuries in and of themselves are associated with substantial physical and emotional damage, but the trauma can be worse when the burns were someone else's fault.
Even after the external wounds have healed, injuries can lead to alterations in bodily functions that must be addressed to optimize your quality of life. Because of this, burn injuries may trigger multiple challenges in acute and critical care management as well as long-term rehabilitation.
There are several different types of burn injuries. In order to effectively treat your injury, a physician must determine its cause. This also helps your personal injury attorney reconstruct the accident and establish a fair value for compensation. Some of the common types of burn injuries include:
Cold burn: This is also called frostbite. The burns happen when cold temperatures damage the skin by freezing the cells. Frostbite may be the result of inadequate thermal protection provided by an employer well you're on the job.
Thermal burn: This is the most common type of burn. It results when your skin contacts a hot object or fire. This raises the temperature of the skin and causes the cells to die.
Friction burn: This is common during a bike accident or motorcycle accident. When a hard object contacts the skin at speed, it can create a heat burn and scrape the upper layer of skin.
Radiation burn: Radiation burns from the sun are called sunburns. Other sources of radiation burns may be radiation therapy to treat cancer or exposure to x-rays.
Electrical burn: In addition to other risks, contact with high voltages can easily burn skin.
Chemical burns: When the pH of a chemical is much higher or lower than the neutral pH of the skin, it can cause a burn. This may happen after exposure to strong acids or bases, detergents, or solvents.
Your physician will determine the source of the burn and the severity of the injury. Both factors will be considered when determining appropriate compensation for your injuries.
The severity of the burn is called the degree. People may suffer first, second, third, or fourth-degree burns. The higher the degree, the greater the damage to the tissue.
First-degree burns affect only the outer layer of the skin. The skin can turn red and be painful. However, there will not be any blisters or long-term damage.
Second-degree burns affect the outer layer, as well as the second layer of skin, called the dermis. You will see blisters that will hurt to touch. Superficial second-degree burns often do not leave any disfigurement or scarring. However, a partial-thickness second-degree burn is more severe and can leave a scar or permanently change the color of your skin.
Third-degree burns are sometimes called full-thickness burns because they destroy two full layers of skin. The damage also includes nerve endings, so you don't initially feel any pain.
Fourth-degree burns are potentially life-threatening. They can destroy the skin and the tissues beneath it, such as muscle and tendon. This is the severest type of burn and may go as deep as the bone.
Compensation for Burn Injuries
To receive compensation, you must prove the injury was caused by another person's actions. You may choose to file a claim with the at-fault party's insurance company or a personal injury lawsuit against the wrongdoer if the insurance company does not offer fair compensation. In the state of Illinois, this must be done within two years of the initial injury. This time limit is dictated by the statute of limitations.
If you file a personal injury lawsuit, the court may award two different types of compensation. These are economic and noneconomic damages.
Economic damages are monetary expenses that you incur associated with the injury. For example, medical expenses are considered economic damages. These can include any medical expenses required for your treatment, such as doctor's visits, hospital stays, and prescription medications. It may also include future medical expenses your doctor anticipates you will need.
Economic damages also include lost wages and lost earning capacity. Depending on how the injury happened, the judge may award damages to compensate for property loss or out-of-pocket expenses.
Noneconomic damages are intangible losses that have no set monetary worth. For example, they may include pain and suffering, physical disfigurement, emotional stress, and loss of enjoyment of life.
Contact Your Kankakee Burn Injury Lawyer Today
Recovering from a burn injury is challenging. Your focus should be on your recovery and rehabilitation and not on fighting for compensation. It is our goal to fight to protect your rights and ensure you recover the compensation you deserve for the injury you endured.
If you or a loved one has suffered a burn as the result of someone else's reckless act or negligence in Kankakee, Illinois, we have the legal team you need. Call Spiros Law, P.C. today at (815) 929-9292 or use our online contact form to set up your free, no-risk consultation.