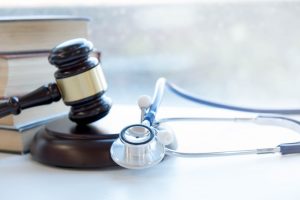 When someone suffers an unexpected injury, we often refer to the incident as an "accident." But the truth is most "accidents" are hardly random or inevitable. When someone is hurt in a drunk driving crash, for example, the sober driver was not injured "by accident." Their injuries are the result of the drunk driver's actions.
While there is nothing you can do to reverse the effects of an accident, you can pursue compensation from another party if they caused your injuries. The Augerville personal injury attorneys of Spiros Law, P.C. have spent more than 15 years defending the rights of the injured in central Illinois, and we can help you recover fair compensation for your injuries. We have earned a reputation for being one of the region's top personal injury firms, and many of our cases come from other law firms who want our help. Our aggressive approach has helped us recover millions of dollars for our clients so they can pay their bills and live comfortably after suffering a major injury. If you want to know more about our services, call (217) 443-4343 today or visit our contact page for a free case review.
Why Hire Our Augerville Personal Injury Lawyers
There are plenty of personal injury lawyers throughout Illinois, but that does not mean you should just pick a random firm to represent you. You are counting on your attorney to help you recover the money you need, and you may be working with them for a long time as the legal process unfolds. With that in mind, here are a few reasons to choose Spiros Law, P.C. if you have been injured in an accident in Augerville that wasn't your fault:
Our whole team will work on your case so you can benefit from our collective knowledge and experience
We have handled a wide range of cases in Illinois and in other states like Wisconsin, Indiana, Ohio, Kentucky, Missouri, and Florida
We build close relationships with our clients and will hold regular face-to-face meetings so we can update you on your case and address any concerns you have
We have recovered more than $100 million in compensation for our clients over the past decade
Personal Injury Cases We Handle in Augerville, IL
Our firm is fully equipped to handle a range of Augerville personal injury cases, including:
How Much Is My Personal Injury Case Worth?
You should be wary if a personal injury lawyer tells you how much your case may be worth before they have had a chance to look more closely at the facts. However, you can get some idea of how much your case might be worth by estimating the value of all the losses you can be compensated for, including:
Medical expenses (doctor's appointments, hospital stays, prescription drugs, physical therapy, lab work, imaging or surgical procedures, future care you may need, etc.)
Lost wages while you heal from your injuries
Reduced future earnings due to a physical or mental disability
The cost of making any changes to your home to account for a disability
Emotional distress
Diminished quality of life
Damaged personal property
Statute of Limitations in Illinois Personal Injury Cases
In most Illinois personal injury cases, you have two years from the date of an accident to file a lawsuit against any liable parties. If you miss this deadline, you will most likely be unable to recover any compensation for your injuries.
However, there are certain circumstances under which you may be able to extend the deadline to file a lawsuit. For example, many people who have been injured due to medical malpractice do not find out about the injury for several years after the initial incident. If you are concerned about losing your chance to file a lawsuit after an accident, speak with a personal injury attorney right away.
What to Do if You Are Injured in an Accident
One reason many people have trouble recovering compensation after a serious accident is that they make simple mistakes in the days or weeks after they were injured. If you have been injured in an accident caused by someone else, here is what you need to do to protect your right to compensation:
Report the accident – If you are involved in a motor vehicle accident, call 911 and let the police know so they can investigate the crash and file an accident report. If you are injured at work or on someone else's property, report the injury to your employer or the property owner/manager. Make sure the report is in writing, so there is a definite record of what happened.
Take pictures – Use your phone to take pictures of your injuries, the site of the accident, and any other people or vehicles involved in the accident.
Look for eyewitnesses – Testimony from neutral third parties can be extremely valuable in a personal injury case, so keep an eye out for anyone who might have seen what occurred. It is also a good idea to look around for any security cameras that may have recorded the accident.
Seek medical treatment – Get to a doctor right away after an accident, even if you feel fine. You may have internal injuries that have not fully manifested and require immediate treatment, and you also want to make sure your doctor documents your injuries as soon after the accident as possible.
Save your medical records – Your medical records are a critical source of evidence in a personal injury claim, so be sure to keep copies of them.
Do not give any statements to insurance companies – Your insurance company will likely require you to report that you have been in an accident within a few days or weeks, but do not tell them anything beyond the fact that an accident occurred. Wait until you have spoken to a lawyer before you give any detailed statements.
Hire a personal injury attorney – You need to act fast after an accident if you want to maximize your compensation, as critical evidence can disappear or deteriorate within a matter of hours or days. The sooner you speak to a lawyer, the sooner they can get to work on your case.
Contact an Augerville Personal Injury Lawyer Today
If you have been injured in an accident in Augerville that wasn't your fault, our team is standing by to take your case. Get a free consultation today by calling (217) 443-4343 or visiting our contact page.