When you are involved in an accident, it can feel like the rug has been pulled out from under your feet. Suddenly your life has changed in ways you couldn't imagine only the day before. You may be unprepared to face the physical and financial challenges that a sudden accident caused by someone else can present. So how do you get the money you deserve? By hiring a Sammons Point personal injury attorney to handle your claim.
At Spiros Law, P.C., we have dedicated our careers to helping injured victims seek the compensation they deserve. Accident victims are often left in a unique and vulnerable position. Trying to recover money for your injuries while fighting to protect your interests can be difficult. Don't fight alone.
If you are injured in an accident, and a negligent party is to blame, get in touch with a skilled Sammons Point personal injury lawyer with Spiros Law, P.C. today. We give injured victims and their families the help and support they need during this challenging time in their lives.
Cases That We Handle
Accidents come in all shapes and sizes. At Spiros Law, P.C., we have the knowledge and the background to tackle all types of personal injury claims. We will fight to protect your rights in cases involving:
To talk to an experienced Sammons Point personal injury attorney for free, call our office at (815) 929-9292.
Committed to Community
The Sammons Point attorneys with Spiros Law, P.C. don't just heed the call for workplace excellence. We are committed to serving the community outside of the courtroom as well. Throughout the years, we have pledged our time and resources to a variety of different community-focused projects.
At Spiros Law, P.C., we believe in a cause bigger than ourselves. Community involvement keeps us in touch with the people we strive to serve. It also is a means to helping our community continue to grow and thrive in bold new ways. We take pride in being a part of the Sammons Point community. Our team wants to ensure that the people in our local neighborhoods are supported in both good times and in bad.
What Sets Spiros Law, P.C. Apart?
At Spiros Law, P.C., we think how we treat our clients sets us apart from the rest. We know that after an accident you are dealing with an enormous amount of stress. Filing a claim can be frustrating, and it is difficult to navigate the process. We offer our clients the compassionate support they need during this complicated time. We treat you with dignity and respect. We also take the time to really listen to your concerns and communicate with you about where you stand in the legal process. Direct and honest communication may be something you're lacking in your interactions with insurance adjusters. However, it is something we pride ourselves on maintaining with our clients.
Our track record also makes us stand out from the crowd. At Spiros Law, P.C., we have won over $100 million in personal injury claims and lawsuits over the last decade. If you want an attorney who will strive to maximize your results and seek the money you deserve, look no further than the Sammons Point team of Spiros Law, P.C..
Who We Are
Our team of Sammons Point attorneys has experience in and out of the courtroom. We are skilled negotiators who won't back down from fighting to get you the money you deserve. However, we are also highly experienced litigators and are prepared to take your personal injury claim to trial to recover the compensation you need. We are passionate about advocating for your rights and giving you the quality representation that you are entitled to receive.
While our team may be skilled both in and out of the courtroom, we never forget that at the heart of every case is an injured victim, a victim who needs support and understanding during this turbulent time in their life. Fighting for your financial stability does not mean ignoring your emotional pain. You can always count on our attorneys to provide you with compassion, respect, and a shoulder to lean on.
Why Do I Need a Personal Injury Attorney?
Significant injuries can create major physical and financial setbacks. While hurt, you may be unable to work, and medical bills can start piling up. If the accident wasn't your fault, why should your pocketbook take the hit? You deserve compensation for your injuries, and the negligent party responsible for the accident should be held accountable.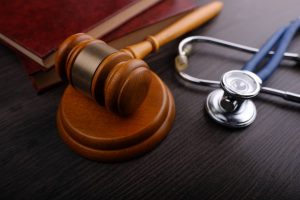 Unfortunately for accident victims, gaining meaningful compensation after an accident can be difficult. It can mean negotiating with insurers who have a vested interest in keeping a company's profits intact. Insurers are well-versed in strategies that can diminish a claim's value and keep accident payouts low. Without a knowledgeable guide and legal advice, you may not be able to recover the full and fair amount that your claim is worth.
A personal injury attorney is your personal advocate. Someone who will fight for you and make sure that your interests are being protected throughout the claims process. When an insurer negotiates in bad faith, an attorney will be at the ready to take your case to trial. You don't have to tackle an accident claim on your own. A Sammons Point personal injury attorney can offer you the best opportunity possible at recovering the compensation that you deserve.
Request a Free Consultation Today
How do you know if a skilled Sammons Point personal injury attorney can help you? Just ask. At Spiros Law, P.C., we offer victims a free, no-obligation case evaluation. A Sammons Points attorney will sit down with you and take the time to learn more about your situation. We can lay out your legal options for recovering compensation and answer your questions. We do this in a relaxed, no-pressure environment.
If you are ready for a free consultation to learn more about how we may be able to help you, call our office at (815) 929-9292.