Each and every day in America, innocent people suffer the consequences of preventable accidents-drunk drivers cause horrific crashes; large dogs, left unattended by their owners, attack children; supposedly safe products start fires; and the list goes on. There is no doubt that you are at risk or unforeseeable injury on a daily basis. Thankfully, individuals hurt by the carelessness or malice of the others do have legal rights.
The dedicated personal injury attorneys at Spiros Law, P.C. believe that there is too much uncertainty in our dangerous world to either let negligent or intentionally aggressive individuals get away with their actions or to hire an attorney who does not have the credentials to take them on.
Our legal team is committed to holding guilty parties responsible so that their victims can claim the financial compensation they deserve.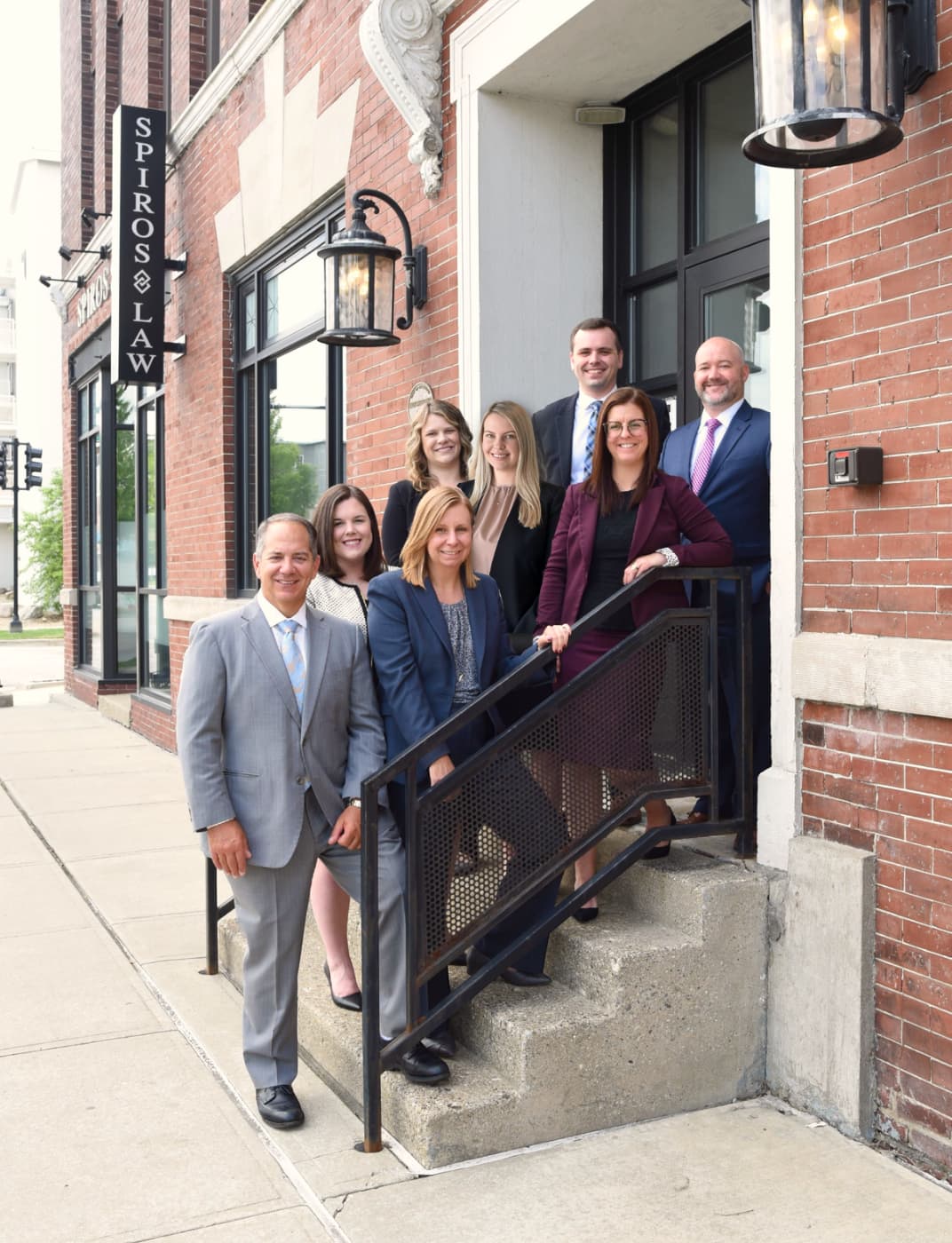 Personal injury law exists to help victims cope with the financial difficulties that arise after an accident. Though nothing can truly make up for the injustice you have suffered, our attorneys understand that compensation can be crucial as you get your life back on track. At Spiros Law, P.C., we will fight to get you the damages, or payments, you deserve. The law can grant damages to you for a wide variety of costs that could arise from your injury. A personal injury case victory would mean you could get money to cover:
Hospital or doctor's bills
Plain and suffering
Future medical expenses
Lost wages
Your lost ability to earn money doing specific kinds of work
Carelessness can be at the root of a wide variety of accidents and with this comes a wide variety of possible effects. Big product design companies might release a toy with lots of small pieces, creating a choking hazard for infants; a child who choked on a toy might have to go back to the hospital for brain damage check-ups. A yard-care service might not put up proper signs, endangering pedestrians with heavy, falling branches; the avid softball player whose arm was broken by a collapsing branch might never be able to enjoy their favorite sport again.
DO I HAVE A PERSONAL INJURY CLAIM?
Our tough personal injuries attorneys know that accidents have long-lasting consequences. If you suspect that a person or organization might be responsible for your injury, contact us at (815) 929-9292 today. We are ready to fight to get you the financial compensation you deserve.
OUR PERSONAL INJURY PRACTICE AREAS
Whether you were hurt in a car accident or by an aggressive dog, our legal team can help you with your personal injury case at every step of the process. Thanks to our knowledge and experience, the qualified attorneys at Spiros Law, P.C. are able to handle many types of personal injury cases including, but not limited to:
We understand that different injuries require different investigate approaches, medical analyses, and legal arguments. Brain injuries can be difficult to measure even as they impact every aspect of a victim's life. Burn injuries can seem impossible to take to court if a victim is unaware of the original cause of the fire. Our skilled legal team has mastered the techniques required to build powerful, compelling cases for these types of injuries and more.
HOW COMMON ARE INJURIES?
If you or someone close to you has sustained an injury, you are certainly not alone. People can be wounded or hurt in all manner of ways; as tragic as they can be, accidents are simply a part of life. The prevalence of injuries, however, can seem absolutely staggering. The Centers for Disease Control and Prevention (CDC) gathers data concerning health and illness. Their information, along with studies from other organizations, allows us to clearly see the sheer amount of injuries sustained by American citizens. Some surprising facts about injuries in general include:
Injury is the leading cause of death for children and adults through age 45
In 2014, 39.5 million people died due to injuries
One person dies because of injury every three minutes
Around 27 million people each year go to the emergency room with an injury
These statistics reveal a country deeply impacted by all types of injuries. More specific data can show us what accidents are leaving so many people hospitalized or, tragically, dead. For example:
About 4.5 million dog bite incidents occur every year
Car crashes kill around 90 people each day and injure many more
In 2014, slip and fall accidents caused seven million injuries
Medical error causes more than 250,000 deaths each year
The sheer number of people hurt by dog bites and car crashes alone is astounding, especially because many of these injury-causing incidents are preventable. Consider a pet owner who simply should have put a leash on their dog during a walk or a driver who should not have gotten behind the wheel after a night out at the bar. Personal injury law can give financial compensation to victims of injuries that occurred due to simple carelessness or willful cruelty. Our personal injury lawyers are equipped to handle injuries caused by motor vehicle crashes, dog attacks, product malfunction, and many other accidents or events.
PROVING FAULT
You might be thinking, what if you don't know whether someone else is responsible for your injury? Maybe you were bitten by a stray dog in the parking lot of an apartment complex. Perhaps you slipped and broke a bone in a restaurant because the "wet floor" sign was partially concealed behind a corner. Unfortunately, far too many people each year assume that their injury was entirely caused by bad luck. People even blame themselves when the law would actually find another party legally responsible. The law might be prepared to award you financial compensation even if you aren't personally sure if another party is at fault.
Our legal team can help you figure our whether you have strong personal injury case. It can be challenging the average person to identify the party that's legally liable for an injury. You simply don't know the ins and outs of the laws surrounding negligence, duty, and liability. Thankfully, you do not have to conclude whether someone else was responsible for your injury by yourself. Years of experience and training in personal injury law has prepared our team to guide you through the process. We can help you identify the legally liable party and, if necessary, prove their fault in order to collect your financial compensation.
A personal injury attorney can look at the specifics of your case to determine legal liability, or legal responsibility, for the injury. Another party may be held legally liable if:
They did not behave the way a reasonable person normally would, and their actions contributed to or caused your injury
They were careless or reckless in their actions
They were negligent in the upkeep of their property, making it unsafe
They intentionally caused you harm or put you in danger
Designers, manufacturers, or distributors failed to adequately test a dangerous product
DO I HAVE A PERSONAL INJURY CLAIM?
At Spiros Law, P.C., we believe that you should not have to suffer because of someone else's irresponsible actions. Even if you are uncertain whether another party was to blame for your injury, you should consult with a knowledgeable legal professional. You might have rights and options you don't even know about.
WHY CHOOSE SPIROS?
Our successes speak for themselves. We are proud to say that we have won massive damages for individuals victimized by the negligence of others. Here are some of our prominent examples:
$300,000 for a woman injured in a snowmobile accident.
$9,842,900, the second-largest verdict in the history of Vermilion County, for an innocent baby who suffered immense harm and required an emergency craniotomy.
$1,450,000, the largest verdict in Ford County, for a driver injured when another car ran a stop sign.
They intentionally caused you harm or put you in danger
These are just a few examples of the many successful cases we have argued. We have experience dealing with a wide range of personal injury cases. We help clients with the following cases:
Medical Malpractice
Car Accidents
Defective Drugs & Devices
Trucking Accidents
Nursing Home Abuse
Product Liability
Premises Liability
Wrongful Death
Worker's Compensation
As our reviews show, at Spiros Law, P.C. we also pride ourselves on clear, honest communication with our clients and potential clients. From the moment we assess a case, we are upfront about the likely outcomes, good or bad. We understand that individuals looking for a personal injury attorney have already experienced great pain, suffering, and loss. Because of this, we strive to be compassionate, open, and transparent with each and every person who calls us for help or advice.
CONTACT US
If you or someone close to you has been injured and you suspect another party might be at least partially to blame, don't hesitate. Contact the dedicated personal injury attorneys at Spiros Law, P.C. today by calling (815) 929-9292. Time is of the essence in most personal injury cases. Even if you think there's only a small chance someone else might be responsible for your injury, our compassionate, committed team of experienced legal professionals can provide you with a fuller picture of your rights and options under the law. We are prepare to help at any stage in your personal injury case. Even though someone else failed to protect your health, to tough personal injury attorneys at Spiros Law, P.C. are ready to protect your rights.