Bloomington Personal Injury Attorneys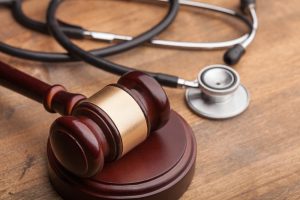 When someone causes you harm, you have the right to file a lawsuit against the person or company who harmed you. You are entitled to try to obtain the compensation you're owed and to hold them accountable for their actions. Injuries can cost you both financially and emotionally. Physical injuries often require expensive medical treatment. Emotional injuries can have debilitating effects on your ability to live a full life. You may be entitled to recover compensation for what your injuries have cost you.
You need an experienced personal injury attorney who can advocate for the justice you deserve. At Spiros Law, P.C., we are dedicated personal injury attorneys with the experience to represent our clients in even the most complex cases. Our clients are our priority, and we fight hard to help them reach the best outcome possible in their case.
To schedule a free initial consultation with the Bloomington personal injury attorneys of Spiros Law, P.C., call us today at (309) 455-8838 or contact us online.
Cases We Handle
The personal injury attorneys of Spiros Law, P.C. handle a wide range of personal injury cases and other civil lawsuits. We represent clients in central and eastern Illinois in the following types of cases:
Additionally, we represent clients who have suffered burn, brain, and animal bite injuries, as well as broken bones and scarring through no fault of their own.
We also represent victims of the following offenses in civil lawsuits:
If you've been injured in the above accidents, are a victim of the above forms of abuse, or need help with your workers' compensation or business insurance claim, contact Spiros Law, P.C. to see how we may be able to help with your case.
Frequently Asked Questions
New clients tend to have many questions regarding their cases. Below are answers to just some of the questions we hear most often.
When do I have to file a lawsuit?
You have two years from the date of your injury or the date that you discovered your injury to file a personal injury lawsuit, according to Illinois' statute of limitations.
What is the difference between a personal injury claim and a lawsuit?
A personal injury claim is filed with the responsible party's insurance provider. A personal injury lawsuit is filed against the responsible party in court.
Do I have a case?
We'll have to discuss the facts of your case and your injuries to determine whether you have a case. At your first consultation with our personal injury attorneys, we'll evaluate your case and let you know your options.
Contact Spiros Law, P.C. for Assistance with Your Case
Wrongdoers should be held accountable for the injuries they cause to others. If you were injured because of someone else's actions, you may be able to hold the responsible party accountable by pursuing compensation for your injuries.
Call us right away at (309) 455-8838 or contact us online to schedule a free initial consultation.