Kankakee Attorneys for Pedestrian Accidents Due to Driver's Failure to Stop or Yield
If you sustained injuries in a pedestrian accident due to a driver's failure to yield or stop, do not hesitate to contact Spiros Law, P.C.. You might be entitled to compensation for your medical bills and other incurred costs. We could represent you in your claim to hold the negligent motorist liable for their actions.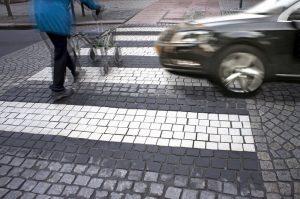 Pedestrians are at significant risk of injury and death when motor vehicles are nearby. Walking through parking lots and crossing the street can be dangerous. If a driver isn't paying attention to the road ahead, they could crash into a pedestrian. Unfortunately, many drivers ignore yield and stop signs. Instead of slowing down and proceeding with caution, many motorists place pedestrians in a dangerous situation.
At Spiros Law, P.C., our Kankakee pedestrian accident attorneys fight for the rights of pedestrians injured in accidents involving motor vehicles. We know you face a challenging recovery and need legal representation to hold the negligent driver liable. You can count on us to remain by your side throughout the entire process to provide the guidance and support you need.
Call Spiros Law, P.C. today at (815) 929-9292 for your free consultation and learn more about what we can do for you.
Illinois Traffic Laws Regarding Pedestrians
According to Illinois Vehicle Code Article X, drivers must yield to pedestrians when:
Approaching a crosswalk without traffic control signals or signals that aren't in operation if a pedestrian is crossing on the same part of the road or from the opposite side of the road and the pedestrian could be in danger.
Approaching a stopped driver ahead at a marked or unmarked crosswalk at an intersection. The motorist approaching from the rear is prohibited from passing the stopped vehicle to go through the intersection ahead of a pedestrian who is already crossing the street.
Approaching an intersection with flashing red signals or stop signs or a plainly marked crosswalk between intersections.
Approaching a school zone with a pedestrian on the half of the roadway the car is traveling or from the opposite half of the road and the pedestrian could be in danger.
Approaching a pedestrian who has a visible disability.
Approaching a person using a motorized wheelchair on a roadway or sidewalk.
Why Failing to Stop or Yield to a Pedestrian Is Dangerous
It's common for motorists to run red lights and ignore someone else's right of way. Many people are rushing to work or tending to their daily responsibilities. With jam-packed schedules, following traffic signs seems trivial. However, when a driver doesn't yield or stop for a pedestrian, the risk of severe and life-threatening injuries increases.
Unlike the occupants of vehicles, pedestrians don't have safety devices. There isn't any airbag to cushion them from the violent impact of a collision or seatbelt to restrain them in place. They suffer the full force of a car or truck slamming into their body. If someone enters a crosswalk and a driver doesn't slow down to let them cross, they could get hit or run over by the vehicle.
The dangerous results of drivers failing to yield or stop for pedestrians include:
Repeated actions – If a motorist ignores a yield sign or enters an intersection ahead of a pedestrian without any consequences, they're likely to do it again in the future. Typically, it isn't until a tragic accident occurs that people choose to change their behavior.
Higher fatality rate – Pedestrians are at a greater risk of death in car crashes than the occupants of vehicles. Drivers and passengers have protection during a collision, but pedestrians don't. Even if a crash occurs at a low rate of speed, when a human gets hit by a car, the consequences can be deadly.
Common Types of Pedestrian Accidents
Pedestrian accidents can take various forms. Crosswalks aren't the only place a driver can cross paths with pedestrians. Collisions between pedestrians and motor vehicles can occur in a range of scenarios, such as:
Parking lots – A parking lot accident often happens when a driver doesn't pay attention to their surroundings. They might speed and not have enough time to brake and avoid crashing into someone walking in front of their vehicle.
Jaywalking – Although crossing the road in places with no crosswalk is dangerous, it can happen. Motorists must slow down or stop for anyone already in the middle of the street.
Backing up – Any driver backing out of a parking space must look behind them first. They should check whether anyone is about to cross into the path of their vehicle before maneuvering their car out of the spot. If they see a pedestrian, they should wait for them to pass.
Jogging – Pedestrians aren't always walking. Some go for a run or jog. An inattentive driver could crash directly into a jogger making their way through a parking lot, on the sidewalk, or across a road.
If you were involved in any of these or another type of pedestrian accident, you should contact Spiros Law, P.C. to discuss the available legal options. We can review your case and determine whether we can help you hold the negligent driver accountable.
Compensation Available in a Pedestrian Accident Case
Most people don't know their rights following a pedestrian accident. You might not even realize you can file a claim with the at-fault driver's auto insurance company. Even though you weren't in a vehicle at the time of the accident, you're allowed to pursue compensation in a car insurance claim.
Every motorist in Illinois must buy and maintain liability insurance with these minimum limits required by state law:
$25,000 for bodily injury or death to one person
$50,000 for bodily injury or death to two or more people
$20,000 for injury to or destruction of property
You can seek a settlement from the insurance company when you file a liability claim. The compensation you receive might compensate you for the losses you suffered, such as:
Medical expenses
Permanent scarring or disfigurement
Mental anguish
Lost wages
Lost earning capacity
Pain and suffering
Property damage
If you choose to file a lawsuit, you could recover punitive damages. The court will allow you to pursue this type of compensation if you can establish at a hearing the reasonable likelihood of proving sufficient facts to support this financial award at trial.
Contact Us
If you were injured as a pedestrian in an accident involving a driver who failed to yield or stop, contact Spiros Law, P.C. right now. You can meet with one of our Kankakee pedestrian accident lawyers for a free consultation. We will be your advocate and fight for the justice and compensation you deserve.
Call us now at (815) 929-9292.