Kankakee Attorneys for Pedestrian Accidents Caused by Drowsy or Fatigued Driving
According to the U.S. Centers for Disease Control (CDC), 1 in 3 adults do not get sufficient sleep. Given the fact that more than one-third of all Americans aren't getting proper rest, it's reasonable to assume that a significant number of motorists drive while fatigued. Driving while fatigued can have deadly consequences for other motorists, cyclists, and of course, pedestrians.
In fact, according to the National Highway Traffic Safety Administration (NHTSA), drowsy driving-related accidents resulted in 697 fatalities in 2019 alone. The NHTSA also estimates that in 2017, 91,000 police-reported accidents involved fatigued drivers, leading to 50,000 injuries and almost 800 deaths that year.
If you are a pedestrian who was injured after being hit by a drowsy driver, you could be entitled to compensation. You deserve a chance to hold the at-fault motorist accountable for their negligence. To have the best possibility for a positive outcome for your insurance claim or lawsuit, you should consider hiring an experienced Illinois attorney to represent you. Contact the Kankakee pedestrian accident lawyers of Spiros Law, P.C. today for a free, no-risk consultation.
What Is Drowsy Driving?
Drowsy driving occurs when a motorist operates a vehicle without being well-rested enough to drive safely. Drowsy driving can be caused by:
Shift work – Night shift workers and others who work irregular hours are more likely to be sleep-deprived and drive while fatigued.
Insomnia or sleep disorders – Drivers who have sleep apnea, insomnia, or other sleep-related conditions may be more likely to drive drowsy.
Drunk driving – Drinking alcohol prior to getting behind the wheel can lead to drowsiness.
Sedatives – Taking medications that cause drowsiness, including over-the-counter and prescription medications, may lead to fatigued driving.
All motorists have an obligation to operate their vehicles in a safe manner. Anyone who gets behind the wheel while fatigued can present a danger to pedestrians. If you were hit by a fatigued motorist in Illinois, don't hesitate to reach out to our attorneys at Spiros Law, P.C.. We might be able to help you pursue an insurance claim or personal injury lawsuit against the at-fault motorist.
What Types of Evidence Are Needed to Prove a Drowsy Driving Case?
When a drunk driver causes a crash, police often use field sobriety and BAC tests to determine whether the driver was intoxicated at the time of the crash. Unfortunately, there is no way to test whether someone was fatigued at the time of an accident. However, a seasoned drowsy driving lawyer will be able to quickly collect and preserve evidence that proves the driver was fatigued, such as:
Prescription medication records
No skid marks at the scene of the crash, demonstrating that the fatigued driver did not attempt to stop the vehicle
Work or school attendance records to demonstrate that the motorist was not getting sufficient sleep
Cell phone data, social media posts, and credit card data to prove that the fatigued driver had been awake for a long time
If you were injured by a drowsy driver while walking near a roadway, an attorney could help you gather the information you need to prove liability and identify all possible sources of compensation.
What Types of Compensation Can Victims of Drowsy Driving Recover?
Pedestrians who are injured in drowsy driving collisions often suffer severe, even life-threatening injuries. Unlike motorists, who can depend on airbags, seat belts, and other safety features to shield them from the force of a collision, pedestrians have no protection at all, meaning they are typically directly impacted during a car crash.
If you are a pedestrian who was hurt in a car crash, you could be facing steep medical expenses, and the longer you must miss work while recovering from your injuries, the more income you will lose. If the accident renders you disabled, you could be dealing with disability-related costs for the rest of your life. You also might not be able to perform the same job you did before. In severe cases, you might not have the ability to work at all.
These costs can quickly add up, and if you lose your primary source of income, you could rapidly fall into medical debt. But if you did not cause the accident, you should not be responsible for any costs associated with your injuries or other losses. Depending on the specifics of your case, you might be able to recover compensation from the at-fault party for:
Medical costs
Lost income
Reduced future earning capacity
Emotional trauma and mental anguish
PTSD (post-traumatic stress disorder)
Loss of quality of life
Other non-financial losses
You could also be entitled to recover punitive damages, though courts do not often award them. Juries in Illinois may award punitive damages if a plaintiff can prove that the defendant's actions were intentional or that the defendant displayed a willful disregard for the plaintiff's safety. Unlike compensatory damages, punitive damages are designed to "punish" the defendant for particularly egregious acts and to dissuade them from committing such acts in the future.
It is crucial to speak with an attorney before you begin the claims process so that you can get an accurate assessment of how much your case is worth. While tabulating your financial losses is somewhat straightforward, quantifying your non-financial losses can quickly get complicated. You need a skilled drowsy driving accident attorney who knows how to properly document your losses and determine the overall value of your claim. By having a solid idea of your claim's worth, you can avoid settling for less than you deserve.
How Can a Pedestrian Accident Attorney Help Me After a Drowsy Driving Accident?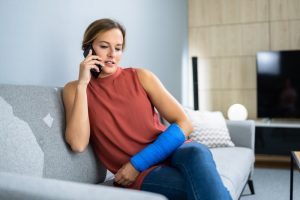 If you were hit by a drowsy driver while walking, you're most likely going to need legal representation if you hope to get a fair settlement. Insurance companies are notorious for using different tactics and tricks to reduce or deny claims. Their loyalty is to the company, not to you. As such, the insurance claims adjuster's chief goal will be to protect the company's bottom line.
One common tactic that claims adjusters use to minimize their losses is to offer you a quick lump sum settlement just to get your case off their books. However, the insurance company's initial offer is unlikely to be generous, and if you accept it without first consulting a pedestrian accident lawyer, you could end up with far less than you need and no way to pursue legal action against the insurer for additional compensation.
If you hire a pedestrian accident attorney at Spiros Law, P.C., your lawyer will have the resources to:
Provide you with sound legal guidance throughout the claims process
Investigate your situation and determine who was responsible for the accident
Quickly collect and preserve evidence to support your case
Represent you in settlement negotiations with the insurance company and at trial, if necessary
File a lawsuit on your behalf if settlement negotiations reach an impasse
Tenaciously litigate your case and present a strong and effective argument before the court
Defend your rights and interests throughout legal proceedings
With so much on the line after a drowsy driving pedestrian accident, including your physical and financial well-being, you can't afford to walk away with a meager settlement, or worse, a denied claim or verdict that favors the defendant. Hiring a seasoned pedestrian accident lawyer to manage your drowsy driving accident case will offer you the best possible chance of success.
Contact Us
If you were injured in a pedestrian accident due to a fatigued driver's negligence, contact an Illinois pedestrian accident attorney from Spiros Law, P.C. right away to discuss your legal rights and options. Our attorneys work on a contingency fee basis, so you won't owe us any upfront legal fees. We'll only collect a legal fee if we obtain a settlement or judgment for you.
We also offer a free initial consultation to all our potential clients so that you can understand the likely outcome of your case. Don't go it alone. Call (815) 929-9292 today.