Danville, IL, can be a dangerous place for drivers, with major highways like I-74, US 150, and US 136 cutting through town. If you've been hurt in a crash in the area, you may be wondering how you will pay your medical bills and when you can get back to work. You're probably hoping for a fair settlement to cover these costs and to repair or replace your vehicle. But insurance companies are notorious for undervaluing valid auto accident claims, which could leave you without the money you need to rebuild your life. Rather than leave your case to an insurance adjuster who's not on your side, turn to a Danville, IL, car accident lawyer from Spiros Law, P.C.. We can help you demand the fair compensation you deserve after a wreck, and we'll do so at no upfront cost to you. 
Do You Need a Lawyer for Your Case?
The other driver's auto insurance may have contacted your claims adjusters with an offer to settle the case. It may be tempting, but you should know it's probably much lower than your case is worth. Once you accept the settlement, you cannot go back for more if it turns out you have additional expenses related to the accident.
Instead, turn to an experienced personal injury lawyer for help. They can independently investigate both the crash and your injuries to determine the true value of your case, then use this information to negotiate hard for a full and fair settlement. And because most attorneys will review cases for free and only charge a fee if they win, there's no risk to you when engaging the services of an experienced attorney.
How a Lawyer Can Help You with Your Case
Trust your attorney to handle all matters relating to your car crash case so you can heal from your injuries in peace. Your lawyer can:
Gather evidence to support your case and prove the other driver caused the accident.

Send a demand letter to the other party stating the extent of your losses and a specific amount for compensation.

Negotiate a fair settlement in an informal process or through mediation.

File a lawsuit if the other party refuses to pay a fair settlement.

Advocate for you in court if your case goes to trial.

Offer advice and insight to make the right choices for your case.
What Not To Do After a Car Accident
You can help your lawyer have the best chance of a high settlement by keeping these post-car collision "don'ts" in mind:
Don't put off seeking medical attention. You have the best chance of healing if you see a doctor right after the crash. Plus, your medical records connect your injuries to the crash.
Don't talk to the other driver's insurance company. You are not obligated to do so, and anything you say can be twisted to seem like you're admitting fault.

Don't throw away any documentation about the accident. This includes medical records, the police report, and a statement from your auto body shop.

Don't neglect to keep a journal to track how your injuries affect your life, ability to work, and daily comfort level.

Don't forget to save pay stubs. Alternatively, get a timesheet from your employer stating the time you missed from work and the amount of your unearned wages.

Don't post on social media. The other party's lawyer may monitor what you say there to argue that you aren't injured as badly as you say.

Don't neglect your health. Attend all your doctor's appointments and follow all their directions for additional care, including movement or light-duty restrictions.

Don't put off calling a lawyer. An attorney provides valuable legal advice and guidance throughout the car accident settlement process.
Illinois Car Accident Laws
Here are some things to keep in mind about Illinois car and pedestrian accident laws:
Uninsured motorist

 insurance is 

automatically included

in all liability policies. This coverage can help you if a hit-and-run driver hits you

.

Collision and medical payments ("MedPay") insurance are available as optional add-ons that can provide first-party benefits for medical bills and property damage regardless of fault.

Personal Injury Protection 

(PIP) insurance

 is not available in Illinois.

You cannot collect damages in a car accident in Illinois if you are 

more than 50% responsible

 for the collision.

The deadline to file a car accident lawsuit is two years from the date of the collision, per the 

Illinois statute of 

limitations on personal injury claims. This applies to car and motorcycle crashes and pedestrian-vs.-auto accidents. 
Common Causes of Car Accidents
Some of the most common causes of car accidents include:
Distracted driving

, like texting and driving

Speeding or other reckless driving

Drowsy driving
Common Danville, IL, Car Accident Injuries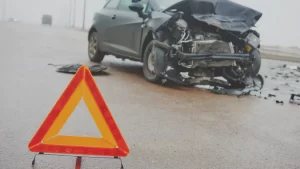 Car accident injuries can be life-changing. Your settlement can cover the cost of treating:
Brain injuries
Burn injuries
Spinal cord injuries

Broken bones

Internal organ damage

Emotional distress, like PTSD
Choose the Experienced Danville, IL, Car Accident Lawyers at Spiros Law, P.C.
Do you need help seeking compensation after a motor vehicle collision? Contact our Danville law offices today at (217) 443-4343 for a free consultation with a skilled car accident lawyer!
FAQs
How much do car accident lawyers cost?
Many Danville car accident lawyers, like those at Spiros Law, P.C., work on a contingent fee basis. This means they only get paid if they win your case, taking a percentage of the settlement for legal fees.
How much compensation can I get for my injuries?
Settlement amounts vary widely. Factors like the severity of your injuries, the strength of your evidence, and the other driver's insurance coverage will affect how much you could recover.
How does a lawyer estimate the value of your case?
Attorneys tally up the actual losses you suffer, like medical care, lost wages from work, and property damage. They may also look at your future needs, like loss of earning potential, to total your actual losses. Then, they may use a factor based on that dollar amount to get a total for your intangible losses, like pain and suffering.
What evidence do I need to build a strong case?
Proving the other driver was to blame for the crash is critical to winning your personal injury claim. Your attorney will turn to evidence like the following to do so:
Photos of the crash scene

The police accident report

CCTV footage or other video footage of the wreck

Your medical records

Witness accounts

Expert witness testimony of the cause of the crash and source of your injuries

Physical evidence like vehicle damage or skid marks
How long after an accident can you make a claim for an injury?
You have two years to file a suit. If you file after this deadline has passed, you essentially forfeit your right to sue. 
Related posts
Steps to Take After a Car Accident
How to Report a Car Accident to Your Insurance Company