If you've been injured by a drunk driver, you may be eligible to receive compensation with the help from the drunk driving accident lawyers in Champaign at Spiros Law, P.C. This is a challenging and difficult time for you and your loved ones, and we are here to help you on your road to recovery. It's a long process, but with our help, you will not have to face it alone.
With alcohol being the number one killer on American roadways, many lives are endangered on any day of the year when just one person makes the careless decision to drink and drive. Exercising extreme caution during the late night, early morning, or holidays is advisable. However, if you have already been in a car accident, you need help immediately. Knowing your rights as a victim is vital in getting the results you need. When you have sustained physical and emotional pain post-accident, you need a qualified team of attorneys to fight for you.
Even when you are driving safely and abiding by traffic laws, it is risky to share the road with a driver who has been drinking prior to getting behind the wheel. You can do everything right and still find yourself or a loved one involved in a drunk driving accident. It's a long road to recovery, whether your injuries are minor or significant. The emotional distress caused by an accident can sometimes outweigh the physical consequences if your injuries are insignificant.
At Spiros Law, P.C., we truly understand the fear and anxiety that is induced by involvement in an accident, especially one in which the driver was under the influence. You're not alone if a loved one fell victim to another driver's recklessness in a drunk driving accident. The long-lasting battle that ensues after an accident is daunting, to say the least. We have helped recover millions in cases like yours, and we will not stop fighting until you get the justice you deserve.
Why Do I Need An Attorney?
At Spiros Law, P.C., we pride ourselves on our experience in protecting the rights of our clients. We firmly believe that drunk drivers pose a significant threat to society. Our commitment is dedicated to assisting individuals who have become victims of accidents caused by these careless drivers. Navigating the legal system after any accident is complex. However, after an accident involving a drunk driver, you will discover that even more steps are necessary to claim monetary compensation for your pain and suffering. Depending on the severity and circumstances of your accident, you could endure a variety of frustrating consequences. These may include loss of work, physical injuries, emotional distress, and damage to your vehicle, among others.
Our drunk driving accident lawyers in Champaign will be there to help you pick up the pieces. After a drunk driving accident, your number one priority should be to recover and take care of your family. You shouldn't have to pursue compensation from an insurance company, reckless driver, or bartender. Having a lawyer on your side can mean the difference between the compensation to cover all expenses incurred due to the accident, or walking away with nothing more than additional stress. Contacting a drunk driving accident lawyer in Champaign should be on your mind from the moment that accident happens.
Why Choose Us?
Our lawyers at Spiros Law, P.C. are a team of professionals who will be here for you from start to finish. We are empathetic and focused on your needs following a severe life-threatening accident. Every member of our legal team actively contributes to your case. We do this to ensure that we leverage our diverse perspectives and combined skillsets to your advantage. Our team is committed to helping our clients receive satisfactory compensation to cover all the costs that are incurred after a personal injury due to a drunk driver's recklessness.
Our team will stand behind you to be the support you need during this stressful time. We have earned a prestigious and well-known reputation in the state from effectively and aggressively winning cases for our clients. Because of our success, other law firms frequently refer cases to us. They do so with the confidence that we possess the resources and experience necessary to provide clients with the impeccable representation they require. From the moment you reach out to us, our team will be actively involved in handling your case. We will maintain regular communication with you to keep you informed about the next steps.
Cases We Handle
Our attorneys are qualified to handle multiple aspects of drunk driving accidents, including:
DUI/DWI: When people drive with a Blood Alcohol Content (BAC) level above the legal limit, they put themselves as well as innocent motorists at risk. If their recklessness causes an accident, holding drunk drivers accountable for their poor judgment is essential.
Dram Shop Liability: Establishments that sell alcoholic beverages to minors or visibly intoxicated patrons may bear responsibility for the damage caused by these individuals in the event of an accident.
Social Host Liability: Providing alcohol to a minor can render a host liable in the event of a drunk driving accident. Not only is providing alcohol to minors inherently dangerous and illegal before they get behind the wheel, younger drivers can be dangerous—even more so with any alcohol in their system.
If you were injured by a drunk driver, it should be a priority to contact Spiros Law, P.C., regardless of whether your situation is listed above.
Frequently Asked Questions
Following an accident with a drunk driver, time may feel like it's moving a mile a minute. For your convenience, we've provided a few of the questions we see most often. Unfortunately, many questions you have will have to have answers tailored specifically to your unique situation, so if you don't see your question or a suitable answer below, contact us at (217) 328-2828 today.
How can I cover my costs after a drunk driving accident?
Insurance should cover the majority of your costs, including wages incurred while you were out of work. To ensure full compensation, it's important to understand the insurance laws in Illinois. You should also be aware of the limits of your and the responsible party's insurance policies, as well as how the "no-fault" law applies to your case, among other considerations. Your medical expenses and the cost of damages are likely very high if you've sustained injuries. We understand how difficult it is to financially prepare for an accident. We provide a free consultation to ensure that we can meet your needs. Our team is here to work alongside you in order to obtain full compensation for your suffering.
Should I settle instead of pursuing further legal action?
Settling can be attractive after an accident, but settling too soon can be risky. It is possible that injuries sustained after an accident will not become apparent until down the road. You may need to seek medical attention. If you were to settle early, those expenses may go uncovered by the at-fault driver's insurance. Oftentimes, if the victim has sustained traumatic injuries that amount to $50,000 or more, the insurer will delay paying a settlement. This delay typically occurs until after the case has gone to court.
Is Illinois a "No Fault" State?
Illinois is not a no-fault state, rather it follows a "tort" system that uses comparative negligence to determine fault in these types of cases. This means that the individual found legally responsible for the majority of the fault for causing the accident must compensate the other parties for their damages.
Drunk Driving Statistics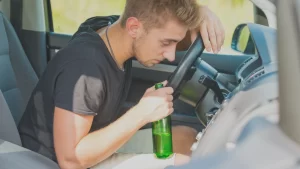 According to the National Highway Traffic Safety Administration, approximately 37 people die every day in drunk driving accidents in the United States. That's one person – one life – lost every 39 minutes. The number of drunk driving-related deaths increased by a staggering 14 percent between 2020 and 2021. Nationally, 13,384 people died in 2021 due to alcohol-related vehicle crashes.
Even in small amounts, alcohol affects vision and judgment, and it is illegal to drive with a BAC of .08 percent or more. In Illinois, authorities can convict a driver of driving under the influence (DUI) even when their BAC is less than .08 percent. This is possible if their impaired driving ability is evident.
Here are some illuminating statistics regarding alcohol-related crashes from the Illinois Department of Transportation:
Every year, approximately 30 percent of Illinois traffic deaths result from alcohol-related crashes.
In 2021, 28.8 percent of the 1,334 people who died in Illinois traffic accidents were in alcohol-related collisions.
In 2021, the age group with the highest percentage of alcohol-related deaths and serious injuries in Illinois were 21- to 34-year-olds, at 50 percent. Among that group, 79 percent were men.
Also that year, most of Illinois' drunk driving deaths happened between midnight and 3:00 a.m.
If you or a loved one have been hurt in a crash caused by an intoxicated driver, it is your right to obtain justice. At Spiros Law, P.C., we are proud of the decades we've spent helping drunk driving accident victims obtain compensation and accountability for what they've suffered.
Help for Champaign Drunk Driving Accident Victims
If you were hurt in a crash caused by a drunk driver, you should be able to hold them accountable for this extreme recklessness. We completely understand the stress that follows a devastating situation like what you or a loved one has experienced. Our team won't stop short of getting the very best results for you.
We offer a free case evaluation, and with three offices—Champaign, Kankakee, and Danville—we have a team near you ready to help. Don't wait—complete our online form, chat live, or call our offices today at (217) 328-2828 and we will work for you to get results!
Related Reading: