When you've been injured in an accident caused by someone else's wrongdoing, not only does it take a toll on your body, but it also overwhelms you emotionally and mentally. Recovering from physical injuries requires mental and emotional strength that you have to work hard to muster up each day.
While you try to heal from your physical injuries, your mental well-being is constantly drained. And if a traumatic event led to your physical injuries, you may be fighting not to relive it. Being injured in a traumatic event and/or facing physical pain every day during your recovery journey is emotionally exhausting, and your pain and suffering can be debilitating.
Just as you deserve to be compensated for the financial costs you've incurred as a result of your injuries, such as your medical bills and lost income, you should also be compensated for your pain and suffering. After all, your pain and suffering can last longer than the direct financial costs of your injuries.
To strengthen your case for being compensated for your pain and suffering, you need to show the extent of your injuries and the impact that those injuries and the wrongdoer's actions have had on you. Here are five ways that you can show that you're entitled to compensation for your pain and suffering.
Let Your Medical Records Speak for You
Significant details about your physical injuries are contained in your medical records. If you were treated in an emergency room and had to stay in the hospital at the beginning of your recovery, everything from your injury diagnosis to the treatment you received would be documented in your hospital records. Any outpatient treatment you've obtained would also be recorded in detail in your medical records. This documentation about the severity and type of your injuries can help explain the pain and suffering you've been dealing with as a result.
Medical Experts Can Give Unique Insight
If necessary, medical professionals who are experts in their fields could be consulted and asked to testify about your injuries. A medical expert could give deeper insight into your injuries, the severity of your injuries, and the treatment you've needed to recover from those injuries. Even a medical expert who specializes in the human reaction to trauma and pain can give testimony showing the link between your injuries and your emotional pain and suffering.
Your Friends and Loved Ones Know You Best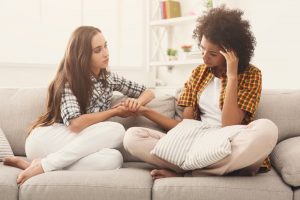 Those who knew and were around you before you were injured may be able to talk about the changes they've seen in you since you were injured. If your physical injuries impair your ability to enjoy certain things or maintain your relationships, these losses could be included as part of your pain and suffering. If the people who know you best have seen how this change has affected you, their testimony could be evidence of your pain and suffering.
Show Your Employment History
Some people who have been injured in accidents suffer such serious injuries that they're unable to return to work or have difficulty with the work they typically did with ease before they were injured. This is especially the case for injured parties who worked physically demanding jobs that they're now unable to do because of their serious physical injuries. If your injuries required you to change jobs or stop working, this change can help to prove your pain and suffering.
Keep a Written Record
Contemporaneous records can be strong evidence in your personal injury case. You should keep a journal detailing the pain you're experiencing on any given day and expressing how your injuries impact your life. You can record the emotions you're feeling and any mental issues you're having as well.
Get Help to Obtain Compensation for Your Pain and Suffering
At Spiros Law, P.C., we know the impact your injuries can have on your life. We will fight hard to get justice for your injuries and for the pain and suffering you've been experiencing as a result. For the past 17 years, we've represented clients in their personal injury cases and helped them obtain millions of dollars in compensation for their losses. Our clients have recovered compensation for their financial losses and the personal cost of their injuries in their lives, including the costs of their pain and suffering.
If you have questions regarding how you can obtain compensation for your injuries and your pain and suffering, or are ready to take legal action against the person or company responsible for your injuries, contact Spiros Law, P.C. now. You can schedule a free consultation with our dedicated Kankakee personal injury lawyers at (815) 929-9292 or by contacting us online.