If you were injured in an accident that was not your fault in Illinois, you could seek compensation from the at-fault party through a personal injury claim or lawsuit. One of the early steps in personal injury litigation is a deposition. Understanding what a deposition is and what happens after it is done can help you feel prepared as you move through the early phases of your lawsuit.
What Happens in a Deposition?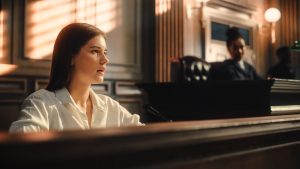 In a personal injury lawsuit, a deposition is a formal out-of-court statement made by a witness under oath. The purpose of a deposition is to gather information from the witness about the case.
Depositions are usually taken in the presence of an attorney, a court reporter, and sometimes a videographer. The witness is sworn in and is required to answer questions truthfully. The attorney taking the deposition will ask the witness questions, and the witness must answer them truthfully and to the best of their knowledge. The attorney may also ask the witness to provide documents or other evidence to support their testimony.
Depositions are typically taken before a trial and are used to gather information and clarify testimony that may be given at trial.
What Should I Expect After the Deposition?
In the days following your deposition, the court reporter will prepare the official transcript and submit it to the court. Attorneys for both parties will also receive copies of the report. When your lawyer receives the report, they will review it to ensure it offers an accurate record of what happened during the deposition. They can seek to correct the record if that becomes necessary.
After you complete your deposition, the insurance company may ask you to undergo an independent examination with a medical professional of their choosing. Before you submit to this examination, speak to your lawyer. They can help you prepare for it by ensuring that you provide only the necessary information. If you offer up irrelevant or inaccurate details, you might unwittingly hurt your case.
After the examination, your lawyer may feel that you have gained further evidence of the correlation between the accident and your injuries, thus strengthening your claim. In such a case, they may attempt a final effort to negotiate with the insurance company.
How Long After a Deposition Is Mediation?
If your lawyer cannot reach a settlement with the defendant, you might choose to try mediation. Some judges may order you to attempt mediation before your case moves to trial. Mediation is a form of Alternative Dispute Resolution (ADR) conducted by a mediator. This mediator is often a retired judge or another neutral legal professional with significant experience with personal injury cases. They will try to help you find a way to reach an agreement with the other party before a trial becomes necessary.
The mediator can offer suggestions, but they cannot force you to settle. Either side can reject any of the mediator's recommendations. However, reaching a solution during mediation can save vast amounts of money and time. For this reason, both sides have a vested interest in actively seeking a positive outcome.
How Long After a Deposition is a Settlement?
While the two sides are actively negotiating or in mediation, there is a chance that they will reach a settlement at any point along the way. However, if a settlement agreement cannot be reached, a trial might be the only option you have to recover the compensation you deserve.
Contact an Experienced Personal Injury Attorney
The Illinois injury attorneys at Spiros Law, P.C. are committed to fighting for the rights of those injured in Champaign, Kankakee, Danville, and surrounding areas. If someone else's negligence harmed you, call us today at (815) 929-9292 or contact us online for a free consultation to discuss your accident and how we can help.
Related Posts:
How Long Does a Personal Injury Lawsuit Take