Elmiron Lawsuit Attorneys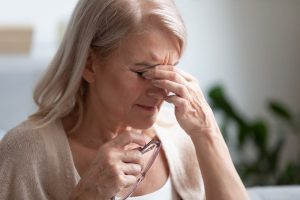 If you developed pigmentary maculopathy or another vision-related problem after taking Elmiron, do not hesitate to contact Spiros Law, P.C.. You might be entitled to financial compensation for your medical care and other expenses.
Elmiron is a type of weak blood thinner. It manages the pain and other symptoms of interstitial cystitis (IC). However, the medication increases the risk of pigmentary maculopathy. The condition affects the macula, the area near the retina's center, causing central vision loss as it progresses.
Spiros Law, P.C. understands the challenges associated with pigmentary maculopathy. It is your right to pursue legal action against the pharmaceutical company for not revealing 5y76uthe dangers of its drug. Call our national defective drugs and devices attorneys at (815) 929-9292 today to learn more about how we can help you hold the negligent manufacturer liable.
How Elmiron Works
Janssen Pharmaceuticals, Inc., the Elmiron manufacturer, created the drug to treat symptoms of interstitial cystitis. Bladder pain, discomfort, and pressure can range from mild to severe. However, Elmiron has been shown to alleviate symptoms and improve quality of life.
Elmiron isn't like other pain relievers, such as Tylenol or non-steroidal anti-inflammatories. A semi-synthetically made heparin-like macromolecular carbohydrate derivative called pentosan polysulfate is the active ingredient in the medication. It is derived from a white, odorless powder.
Researchers don't know how the pentosan polysulfate sodium works. However, they believe it protects the bladder from irritants in a person's urine. It creates a protective lining along the bladder to prevent irritation and inflammation.
Side Effects of Elmiron
Janssen Pharmaceuticals initially listed multiple mild side effects on its Elmiron warning labels, such as:
Abnormal liver function tests
Hair loss
Bruising
Headaches
Rash
Nausea
Upset stomach
Diarrhea
Blood in the stool
Dizziness
Bleeding and bruising commonly occur because Elmiron is a type of blood thinner. Unusual bleeding from the gums, nose, and rectum is likely. Blood in the urine and stool is also possible.
Common Symptoms of Elmiron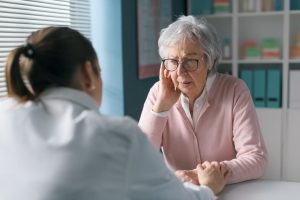 Studies have shown prolonged Elmiron use increases the risk of developing pigmentary maculopathy. Blurry central vision is one of the initial symptoms to appear. Central vision loss in one or both eyes can occur as the condition worsens.
The most common symptoms of pigmentary maculopathy include:
Lack of vision up close
Eye pain
Trouble reading
Night blindness or total blindness
Blurry vision
Difficulty adjusting to dim light
Objects appearing distorted
Abnormal capillaries and blood vessels
Blank or dark spots in the center of the vision
Other medical issues associated with Elmiron include:
Skin rashes
Headaches
Gastroesophageal reflux
Sleeping disorders
Hair loss
Bruising
Compensation for Pigmentary Maculopathy
Janssen Pharmaceuticals and the U.S. Food and Drug Administration (FDA) have yet to recall Elmiron despite the dangerous link to maculopathy. Their argument is that this is the only available drug to alleviate interstitial cystitis symptoms.
Initially, the manufacturer didn't disclose the risks of vision-related problems on its warning labels. Janssen didn't start including the risk of pigmentary maculopathy until June 2020.
You could file a lawsuit against the drug company if you took Elmiron and developed pigmentary maculopathy or a similar condition. You might receive compensation for:
Out-of-pocket expenses
Pain and suffering
Medical bills
Emotional distress
Loss of enjoyment of life
Lost wages
Lost earning capacity
Exemplary or punitive damages might also be available. This financial award punishes the defendant for their actions and deters similar misconduct in the future. You must show clear and convincing evidence of the defendant's wrongdoing to receive this award.
Statute of Limitations on Elmiron Lawsuits
The statute of limitations in most states allows a timeframe between one and five years to file a lawsuit against another party. That means you must initiate your lawsuit against Janssen Pharmaceuticals within the specified timeframe in your state. You can lose your right to compensation if you don't file on time.
Pursuing Compensation in a Mass Tort Lawsuit
Compensation might be available in a mass tort case against the negligent manufacturer. A mass tort involves an act or omission that injures a group of people. Instead of pursuing legal action alone, a mass tort allows multiple plaintiffs to combine their lawsuits into a single case against the same defendant.
Each plaintiff must have injuries due to the same defendant's negligence arising from similar circumstances. A similar circumstance is taking Elmiron, a dangerous drug, in your situation. By failing to warn consumers of the drug's risks, the manufacturer put countless individuals in harm's way. You can hold Janssen liable and recover the money owed to you by participating in a mass tort lawsuit.
Why Hire Spiros Law, P.C.?
Spiros Law, P.C. has represented injured clients since 2005. We have the necessary experience and resources to hold large companies accountable for harming innocent people. Janssen knew about the risks of its medication but chose to supply it to the public anyway. We are ready to represent you and fight for the justice you deserve.
Although pursuing a lawsuit might seem overwhelming, our Elmiron lawsuit attorneys won't let you do it alone. We will provide the personalized attention and support you need to get through this devastating time in your life.
The cost of seeking legal representation can seem daunting. However, we believe everyone deserves a fair chance at seeking compensation for their injuries. We take cases on contingency, so you're not responsible for upfront fees or costs. We don't collect our legal fees unless we secure a financial award for our clients.
Injured by Elmiron? Contact Spiros Law, P.C. Today
At Spiros Law, P.C., we understand how traumatic it can be to suffer harm because of a drug you thought would help your medical condition. Instead, it caused problems that affected your quality of life. We are ready to help you fight for the maximum possible compensation. You can count on our legal team to work hard to try to resolve your case in your favor.
Call Spiros Law, P.C. at (815) 929-9292 today for your free consultation with one of our national defective drugs and devices attorneys if you believe your vision-related condition is due to Elmiron.