Kankakee Attorneys for Pedestrian Accidents Caused by Speeding
Driving carries with it immense responsibility. When they're not operated cautiously and with due care by responsible drivers, vehicles can become modes of destruction. Unfortunately, some drivers fail to rise to the level of care they're supposed to exercise. These negligent drivers can cause serious harm to other motorists and even worse harm to pedestrians.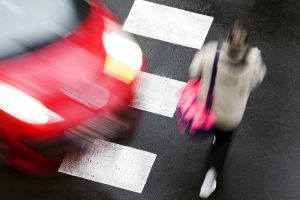 One of the most common actions of negligent drivers is speeding. In the United States, negligent motorists who were speeding were responsible for close to 9,500 fatalities in America, according to the National Highway Traffic Safety Administration.
If a negligent driver was speeding when they hit you, and you suffered serious injuries, you should be compensated for your injury-related losses. The Kankakee pedestrian accident attorneys of Spiros Law, P.C. have 17 years of experience handling accident cases and helping our clients obtain just compensation for their injuries. We won't back down until we've expended every resource we have to try to get you the justice you deserve.
Call (815) 929-9292 today to discuss your potential case and your legal options in a free consultation with one of our compassionate and dedicated pedestrian accident attorneys from Spiros Law, P.C..
How Speeding Drivers Endanger Pedestrians
It's well known how dangerous speeding is. Speeding can cause drivers to lose control of their vehicles. There's no other word but "negligent" to describe speeding in an area where pedestrians are likely to be. Spending in high foot-traffic locations like residential streets, cross-walks, and parking lots presents an increased risk of harm to pedestrians.
Common Pedestrian Accident Injuries
Pedestrians are at extreme risk for sustaining severe, life-threatening injuries. People injured in pedestrian accidents may sustain:
Head injuries
Back injuries
Neck injuries
Spinal cord injuries
Paralysis
Lacerations
Internal bleeding
Organ damage
Amputation
Broken bones
Muscle strains and sprains
Impairment or loss of vision and hearing
The mental effects of a collision between a pedestrian and a car can be just as severe. Pedestrians injured in car accidents can experience debilitating depression, anxiety, and Post-Traumatic Stress Disorder (PTSD) fueled by memories of the traumatic accident. You may still be battling these mental injuries after you've optimally recovered from your physical injuries.
Pedestrian Accident Statistics
There are alarming statistics regarding the occurrences of pedestrian accidents across the United States.
Pedestrians are at an increased risk of being severely injured in an accident with a speeding driver.
The Centers for Disease Control and Prevention (CDC) estimates that over 130,000 injured pedestrians received medical treatment in emergency rooms in 2017.
In 2019, over 6,200 pedestrians throughout the country were killed, and 76,000 pedestrians were injured after being struck in collisions.
What Should I Do After Being Hit and Injured by a Speeding Driver?
After you've been hit by a speeding driver, you or someone else should call 911 immediately. You need urgent medical attention to treat your injuries. They could be life-threatening. You also need to receive medical treatment to begin building the blocks to your personal injury claim and possible lawsuit.
Why is receiving medical treatment important for your claim and lawsuit? To obtain compensation after being injured in a car accident, you have to prove that you suffered injuries in the accident that was caused by the speeding driver. This is part of proving negligence, which is required if you want the speeding driver to compensate you. When you receive medical treatment for your injuries, the hospital and doctors thoroughly document the injuries you sustained and the treatment you needed to save your life and promote your recovery. This is strong evidence that will be a part of your future personal injury claim and lawsuit.
You should maintain copies of all your medical records because they'll play a big part in your claim and possible lawsuit. Any other evidence that you may be able to collect before hiring your attorney will also be helpful.
Once you've reached a point in your recovery where you can consider holding the negligent driver accountable, the first thing you should do is contact an attorney. You don't want to call just any law firm you find on Google. You need an attorney with experience handling pedestrian accident claims and cases. At Spiros Law, P.C., we have well over a decade of experience representing injured clients in their pedestrian accident injury claims and lawsuits. You'll also greatly benefit from having an attorney with litigation experience.
If your personal injury claim doesn't result in you receiving the compensation you deserve, you may need to file a personal injury lawsuit against the negligent driver. Litigating a case in court takes real skill and in-depth legal knowledge. The pedestrian accident attorneys of Spiros Law, P.C. have fought and won cases in court, some of which resulted in million-dollar awards for our injured clients.
Compensation for Pedestrians Injured in Accidents
The injuries you suffered in a pedestrian accident have likely cost you immensely. Your injuries have caused you to incur financial costs as well as the costs of the impact your injuries have had on you mentally. You could obtain compensation that would cover these costs. The insurance company may provide, or a court may award you compensation for:
Medical expenses and expenses for estimated future medical treatment
Lost income or wages
Loss of future earning ability
Property damage
Pain and suffering
Mental anguish
Loss of enjoyment of life
Loss of quality of life
Permanent scarring disability or disfigurement
A court could also award you punitive damages. This form of compensation is rare. It's meant to punish the negligent driver for seriously injuring you and prevent them from repeating their wrongdoing in the future.
A factor in obtaining the maximum compensation possible for your injuries is the part you may have played in the accident. In Illinois, if you were partly responsible for causing the accident and your injuries, your compensation could be reduced. If it's determined that you were more than 50 percent to blame for the accident, you won't be entitled to receive any compensation.
Contact Spiros Law, P.C. Today for Help
Did a negligent, speeding driver seriously injure you in a pedestrian accident? The Kankakee pedestrian accident lawyers of Spiros Law, P.C. can help you seek the compensation you're owed. Call us right away at (815) 929-9292 to schedule a free consultation to learn about your options for obtaining compensation.