In March 2019, ABC News reported that recent research suggested that four in ten emergency room visits for children between 5 and 14 years of age are for sports-related injuries. STOP (Sports Trauma and Overuse Prevention) Sports Injuries, an organization initiated by the American Orthopedic Society for Sports Medicine (AOSSM), reported that over 3.5 million children under 14 years of age are treated for sports injuries every year.
While many sports activities involve a certain assumption of risk, there are often instances where school officials, league organizers, coaches, and other parties were negligent in some way, leading to severe injury. Here, we will discuss the most common sports injuries young athletes might suffer and which sports are the most dangerous for children to play.
Most Dangerous Sports for Young Athletes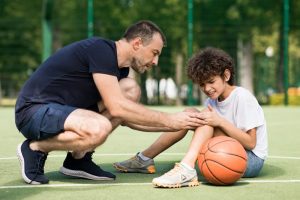 According to Stanford Children's Health, the United States Consumer Product Safety Commission (CPSC) reported that children 5 years of age to 14 years of age were treated in hospital emergency rooms for injuries related to the following sports:
Basketball — Over 170,000
Baseball and softball — Nearly 110,000
Bicycling — Over 200,000
Football — Almost 215,000
Ice hockey — Over 20,000
Snow skiing or snowboarding — Over 25,000
Soccer — About 88,000
Trampolines — About 65,000
Most Common Types of Sports Injuries
Some of the most common types of sports injuries include:
Traumatic brain injury (TBI)
Concussions
Neck and spine injuries
Spinal cord injury
Achilles tendon ruptures
Fractures
Dislocations
Rotator cuff injuries
Paralysis
Anterior cruciate ligament (ACL) sprains or tears
Medial collateral ligament (MCL) tears
Sprains
Strains
Knee injuries
Pulled muscles
Shin splints
Stress fractures
Plantar fasciitis
Hip bursitis
Some of the most common types of sports injuries are concussions and other traumatic brain injuries (TBIs), and almost any athlete in any sport might be at risk. These injuries are also some of the most dangerous because they often go unrecognized or diagnosed. A young athlete could sustain a concussion or TBI without losing consciousness, and if they continue to play without seeking treatment, the damage could be severe or permanent.
Who Is Liable?
As mentioned above, parents of children who are injured while playing youth sports are often concerned about the "assumption of risk" or the consent forms they might have signed when enrolling their child in school or extracurricular sports. You might have signed a waiver or a consent form stating that you were aware of the risks your child might face when playing a particular sport and might fear that you have no right to seek compensation if they are injured. Fortunately, even if you signed a waiver, you might still have the right to seek answers and justice if your child has been injured.
If the school or sports league was negligent and allowed conduct outside of the game's rules or permitted violence, these parties could be held liable for injuries. For example, if the league allowed "non-standard conduct" like excessive force to be used during football (either games or practice), the injured party might be eligible to file an injury claim.
Teachers or coaches could also be held liable in some instances. If they were negligent in their approach to coaching or teaching their student-athletes and someone becomes injured, they could be responsible for what happened. This includes:
Pushing a child beyond reasonable limits during practice or training leads to harm, including overexertion, heat exhaustion, and other injuries.
Failing to recognize that a player is injured and keeping them in the game
Failure to seek medical care for an injured or ill player
Physically assaulting a student-athlete
Using defective equipment
Not ensuring that proper equipment is used
Encouraging conduct outside the scope or rules of the sport, like the example of too much force mentioned above.
Contact a Child Sports Injury Lawyer Today
If your child was injured due to the negligence of a coach, teacher, school league, or extracurricular organization, you have the right to seek justice and fair compensation. Holding the at-fault parties accountable is crucial to protect your child and others. To receive the full compensation you and your family are entitled to, you will need a lawyer with the right experience and resources on your side. Let our skilled sports injury attorneys handle the legal legwork while you focus on your child's recovery. Contact our Kankakee personal injury attorneys at Spiros Law, P.C. at (815) 929-9292 to discuss your case with us during a free and confidential consultation.