In March 2019, ABC News reported that recent research suggested that four in ten emergency room visits for children between 5 and 14 years of age are for sports-related injuries. STOP (Sports Trauma and Overuse Prevention) Sports Injuries, an organization initiated by the American Orthopedic Society for Sports Medicine (AOSSM), reported that over 3.5 million children under 14 years of age are treated for sports injuries every year.
While many sports activities involve a certain assumption of risk, there are often instances where school officials, league organizers, coaches, and other parties were negligent in some way, leading to severe injury. Here, we will discuss the most common sports injuries young athletes might suffer and which sports are the most dangerous for children to play.
Most Dangerous Sports for Young Athletes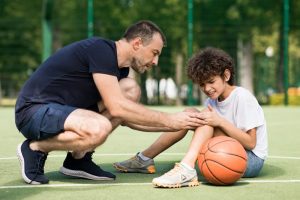 According to Stanford Children's Health, the United States Consumer Product Safety Commission (CPSC) reported that children 5 years of age to 14 years of age were treated in hospital emergency rooms for injuries related to the following sports:
Basketball — Over 170,000
Baseball and softball — Nearly 110,000
Bicycling — Over 200,000
Football — Almost 215,000
Ice hockey — Over 20,000
Snow skiing or snowboarding — Over 25,000
Soccer — About 88,000
Trampolines — About 65,000
Most Common Types of Sports Injuries
Some of the most common types of sports injuries include:
Traumatic brain injury (TBI)
Concussions
Neck and spine injuries
Spinal cord injury
Achilles tendon ruptures
Fractures
Dislocations
Rotator cuff injuries
Paralysis
Anterior cruciate ligament (ACL) sprains or tears
Medial collateral ligament (MCL) tears
Sprains
Strains
Knee injuries
Pulled muscles
Shin splints
Stress fractures
Plantar fasciitis
Hip bursitis
Some of the most common types of sports injuries are concussions and other traumatic brain injuries (TBIs), and almost any athlete in any sport might be at risk. These injuries are also some of the most dangerous because they often go unrecognized or diagnosed. A young athlete could sustain a concussion or TBI without losing consciousness, and if they continue to play without seeking treatment, the damage could be severe or permanent.
Who Is Liable?
As mentioned above, parents of children who are injured while playing youth sports are often concerned about the "assumption of risk" or the consent forms they might have signed when enrolling their child in school or extracurricular sports. You might have signed a waiver or a consent form stating that you were aware of the risks your child might face when playing a particular sport and might fear that you have no right to seek compensation if they are injured. Fortunately, even if you signed a waiver, you might still have the right to seek answers and justice if your child has been injured.
If the school or sports league was negligent and allowed conduct outside of the game's rules or permitted violence, these parties could be held liable for injuries. For example, if the league allowed "non-standard conduct" like excessive force to be used during football (either games or practice), the injured party might be eligible to file an injury claim.
Teachers or coaches could also be held liable in some instances. If they were negligent in their approach to coaching or teaching their student-athletes and someone becomes injured, they could be responsible for what happened. This includes:
Pushing a child beyond reasonable limits during practice or training leads to harm, including overexertion, heat exhaustion, and other injuries.
Failing to recognize that a player is injured and keeping them in the game
Failure to seek medical care for an injured or ill player
Physically assaulting a student-athlete
Using defective equipment
Not ensuring that proper equipment is used
Encouraging conduct outside the scope or rules of the sport, like the example of too much force mentioned above.
Contact a Child Sports Injury Lawyer Today
If your child was injured due to the negligence of a coach, teacher, school league, or extracurricular organization, you have the right to seek justice and fair compensation. Holding the at-fault parties accountable is crucial to protect your child and others. To receive the full compensation you and your family are entitled to, you will need a lawyer with the right experience and resources on your side. Let our skilled sports injury attorneys handle the legal legwork while you focus on your child's recovery. Contact our Kankakee personal injury attorneys at Spiros Law, P.C. at (815) 929-9292 to discuss your case with us during a free and confidential consultation.
FILL OUT THE FORM BELOW
Request A Free Consultation

CLIENT REVIEWS





Great experience with Spiros, very flexible with my work hours and they also had an office located in Kankakee very convenient.
Spiros Law Firm – Lawyers.com
Andy was very professional. He kept us updated & informed during the entire process. He worked to achieve the best outcome for us. I would highly recommend his services to future clients.
Andy – Lawyers.com
Working with Mr Spiros made our healing process easier, he always returned our calls if we had any questions, he regularly called just to check on us, I would recommend Mr Spiros to anyone who wants to file a wrongful death lawsuit
James Spiros – Lawyers.com
I have never worked with a lawyer before my accident in 2018, when I came to Spiros, Sandra Loeb made sure to help me get the settlement I deserved. In the year that I worked with her she went above and beyond, communicated every step with me and in the end I was truly happy with her work and the outcome.
Sandra – Lawyers.com
I was very pleased with my experience at Spiros Law. Initially I didn't know how to proceed, what to say, or who to talk to. They were very helpful and from then on I was able to contact the same person with any question or concern. I was well treated through the entire process, and that is important to me.
Spiros Law Firm – Lawyers.com
Alison was great to work with. She was happy to answer questions in detail and was responsive. A lot of our communication was over email which was nice. In person she's easy to talk to and professional.
Alison – Lawyers.com
I was referred to this law firm by a local attorney due to the firm's reputation for handling personal injuries. I had the opportunity to work with several attorneys on the staff and in the final phase I worked with Miranda Soucie. I appreciate her diligence to "stay the course" as the case would take twists and turns in and out of my favor. In the end it was in my favor. My heartfelt thank you to Miranda for navigating the final result to the best of her abilities. I do not hesitate to highly recommend Miranda to others in need.
Miranda – Lawyers.com
Mr. Spiros and his whole staff have done an amazing job at making me feel empowered, well-informed, and welcomed. I was so scared but was quickly put at ease because he helped me through every single detail and I knew what to expect. He is an amazing lawyer that will fight hard for you. Mr.Spiros ensured I was well prepared which made me feel confident and ready for anything. I would HIGHLY recommend him and his staff.
James Spiros – Lawyers.com
My attorney has been nothing but understanding and compassionate during this long process. Fighting hard to get the most for my injuries, and pain and suffering. I would definitely recommend Spiros Law!!!
Spiros Law Firm – Lawyers.com
Andy went Over and beyond. He kept me informed as to what was happening and worked diligently to get me the best settlement for my injury. I would definitely use Spiros Law and Andy's expertise again, thank you Andy.
Andy Purcell – AVVO
Mr. Purcell was very impressive in the handling of my case. I suffered a nasty fall in a restaurant resulting in limited use of my right arm & shoulder & a steel plate in my elbow. Mr. Purcell handled the case in an efficient & professional manner which resulted in a settlement which was satisfactory to all parties involved. He kept us informed during the entire process & was available every step of the way.
Andrew Purcell – AVVO
Mr Purcell was always professional, helpful and always answered my questions. This was my first experience hiring a personal injury lawyer and he made it so easy. I will certainly refer him to anyone looking for his expertise.
Andrew Purcell – AVVO
I was injured on the job, never had anything happened like this in my life. I jumped through all the hoops a company can make you do. In the end it was suffering on top of suffering and finally surgery. I was very reluctant to seek legal help, didn't know if I was entitled to compensation in the matter. I can't express enough how happy I was I made the call to Spiros Law. Even during this time of pandemic they made everything a piece of cake. Mr Purcell is highly professional, extremely law knowledgeable and overall a very freindly and down to earth person. He helped me in my case 100%. In the end like I said if you are unsure about legal injury help please don't hesitate and call for Andrew Purcell. HIGHLY RECOMMENDED and thank you again personally.
Andrew Purcell – AVVO
Alison was great to work with. Most of our communication was via email which was convenient and she was great about answering questions I had. In person she's pleasant and professional.
Alison Kimble – AVVO
She was a great attorney fought for a bigger settlement and wasn't going to back down!! She was there for us any time we had any questions. Would definitely use her again.
Alison Kimble – AVVO
Alison went way above any expectation I had. She was always available and explained things in such detail. During the consultation, I was told what to expect and there weren't any surprises along the way. During this difficult time, it was refreshing to know she cared.
Alison Kimble – AVVO
Jordan was very polite and helpful when it came to my case! Working numerous hours of long work! He didn't give up at all! Jordan is very professional and will stand up what's right! I was please with the outcome and getting justice! I would highly recommend him!
Jordan Butler – AVVO
Jordan is very nice to deal with. He is kind and courteous. He makes sure that everything is understood. He is though and very compassionate. I would hire him again if we would need to.
Jordan Butler – AVVO
Mr. Spiros achieved a spectacular outcome on my case. I found the process to be efficient and organized. The research was thorough and I received prompt responses to all of my communication inquiries. Most importantly, I felt that Mr. Spiros was honest and frank when explaining possible outcomes and so I had complete trust in his capabilities to achieve the best possible outcome for my case. He over-delivered on my expectations and I won't hesitate to recommend him to anyone in my situation or to hire him again if needed. Thank you so very much, Mr. Spiros. You are a welcome combination of honesty, integrity, and legal know-how.
James – AVVO
I was very pleased with how my case was handled. Sandy was able to get my case closed in a very short time. She was very accessible when needed whether via phone,text, or in person. Would highly recommend Sandy if you are needing a workers compensation attorney.
Sandra – AVVO
I was recommended to Sandra by a previous client. Her work ethic and aggressive posture were empirical in my attaining an financial award regarding personal injury I received while in the employ of the State of Illinois. She kept me posted throughout the process.
Sandra – AVVO
Ms. Loeb educated me on what to expect through the process. She was prompt on responding to communication. I was happy with the outcome.
Sandra – AVVO
I could not have asked for a better experience with Sandra Loeb. From the initial meet up to the conclusion of the legal matter, she made my experience easy and fast. I was comfortable throughout the entire case as Sandra always kept me informed every step of the way. She was understanding, patient, and truly wanted what was best for me. She knew exactly what I was entitled to and succeeded with determination.
Sandra – AVVO
Ms. Soucie provided a level of support during an especially difficult time in my life that I never would have expected from an attorney. She was always clear, honest, and open with me. I was alone in my situation and she made me feel like I was going through it with a trusted friend. She was always responsive and genuine, keeping me updated on the process along the way. I felt like she informed me to make my own decisions about my case, I did not ever feel pushed to do anything that made me uncomfortable. So grateful to have had Ms. Soucie in my corner!
Miranda – AVVO
I was fortunate to be given Miranda's name by one of her previous clients. I felt that she listened and made me feel as if my little case would be her #1 priority, even though I knew she had much larger cases to work on. Thank you for your wisdom
Miranda – AVVO
Miranda worked her magic on my case and because of her diligence, she got me the top percentage allowable for my injury. I would highly recommend her to anyone. Would retain her again in a heartbeat.
Miranda – AVVO
Miranda is very professional, kind and extremely knowledgeable. Caring attorneys are hard to find and Miranda is one of the best. We would never hesitate to hire her again.
Miranda – AVVO
Miranda did a excellent job of working at what was best for us. Miranda is excellent at keeping your needs at the front. So thankful we hired her for this personal injury case.
Miranda – AVVO
Understanding, compassionate and caring about your clients. Fought long and hard for a fair settlement on my personal injuries, pain and suffering and loss wages. I can't thank you enough for your time and dedication. My settlement has helped change my life tremendously. Very happy client and will recommend you anytime!!
Miranda – AVVO
Exceptional service. Dealt with our insurance companies well beyond expectations. Thank you!
Miranda – AVVO
Mrs. Loeb has been awesome from the first conversation
Sandra – Google
The ladies that handled my case were so WONDERFUL!!!! They know their jobs for sure Ms. Alison and Susan I am so very grateful to you guys always.... thank you Spiro Law.
Alison – Google
Very professional and caring team that you could reply on. Very very happy with Ms. Soucie. She is extremely thorough, well prepared, and always patient in guiding us throughout the lengthy process. I would highly recommend Ms. Soucie and her team.
Miranda – Google
Extremely professional and very knowledgeable with any area you need expertise. I personally worked with Sandy, and she was helpful and courteous in all of our communication. We truly appreciate all of her help in the process, as well as her assistants. I highly recommend Spiros Law if you're looking for the best!
Sandy – Google
My experience with Spiros Law and Ms. Miranda Soucie was nothing short of wonderful. She and her staff are very patient, and incredibly helpful. They really made this difficult time bearable and Ms. Soucie truly cared about our situation. I recommend them to everyone who needs someone to go to bat for them.
Miranda – Google
Andrew did an excellent job on my case when I was in a car accident last year. I was injured and couldn't drive to meet with him so he came to me and always kept me in the loop with what was going on. He is very professional, responsive, and made things as easy for me as possible.
Andy- AVVO
Mr. Purcell was extremely helpful with any questions we had and responded in a timely manner. The service we received was excellent and I highly recommend him.
Andy- AVVO
If you are looking for an attorney to truly represent you in the best way, my experience with Andrew was just that. He always took the time to talk and explain and answer any questions I had. Andrew was quick to address any issues in my case such as making sure the insurance company was paying on time and getting bills paid.
Andy- AVVO
Miranda is wonderful in keeping us informed on how things were/are progressing in our case. When we had questions or concerns, we felt comfortable emailing or calling into the office to speak with her, and of course, she gave us honest, truthful answers that reassured us. We've never been down this road before, but having an attorney like Miranda has definitely helped in seeking the justice we feel is deserved.
Miranda – AVVO
Miranda, kept in constant contact either by phone or email and I always received a response within a day or two. Her personality is wonderful, she is a delight to be around, but when it comes to business, she is no-nonsense and does not back down easily. Her heart is in her work and the resulting factor is a happy client. 
Miranda – AVVO
With difficult situations in my case Miranda was always on top of things and providing scenario's on what course we she take. She was professional an concerned with my needs for this case.
Miranda – AVVO
I would highly recommend Miranda to take your case. She is an excellent communicator and a fast thinker! I am very happy with the result of my case, and all praise is due to Miranda. 
Miranda – AVVO
Every time I met with Miranda or had a phone conversation with her the first thing she would ask was how I was doing and make sure if there was anything she could do for me. I felt during this whole process she made this case very personal to her. I felt I was talking to a good friend and not an attorney.
Miranda – AVVO
Miranda was amazing. I always felt she was there for me. I could call her phone anytime and she would get back to me, even on her off time. She worked hard to get the best settlement I could. I never felt she rushed me or didn't feel she was only there because she had to be. I never felt I did not know what was going on.
Miranda – AVVO
Miranda took my case even though it was a difficult one and she never gave up on me. Settled my case and got those medical bills paid! Hope I never need her again but if I do I won't hesitate to call her!
Miranda – AVVO
We had an excellent experience from start to finish with Miranda Soucie. Miranda had the appropriate knowledge, took the time and effort to gather all the information to ensure a positive outcome for our case. We are grateful for her dedication and support.
Miranda – AVVO
Miranda was able to fix everything without me having to stress too much about it - which was amazing due to me still being in college. Miranda took care of everything.
Miranda – AVVO
Ms. Soucie is an extremely knowledgeable and caring attorney. She always treats me with the utmost respect. She never hesitates to answer my questions, either. She has the confidence you want in someone representing you and when you're around her you feel it, too.
Miranda – AVVO
Sandy was always accessible, whether by email or by phone. I never once was asked to leave a message if she was in the office.
Sandy – AVVO
Ms. Loeb listened and addressed my concerns at the consultation, evaluating the situation with professionalism and a friendly manner. My case was resolved to my satisfaction in a short period of time.
Sandy – AVVO
Sandra provided me with the guidance that yielded a very positive outcome in my claim. From the start Sandra was very easy to work with and I quickly realized that I was in good hands with her as my attorney.
Sandy – AVVO
⦁ Sandy has handled 3 cases for me. She has not let me down, I'm very satisfied with the work she has done. 
Sandy – AVVO
Sandy was super friendly and was a great lawyer. She always kept me updated on everything.
Sandy – AVVO
His attention to detail is above reproach and he most certainly is an asset to his profession. Mr. Spiros always answered my calls within a reasonable amount of time.  He is very pleasant to deal with and I believe that is very important in an attorney. I had no stress in dealing with the process due to Jim. I can not recommend him enough. He is the only attorney I would ever consider using. 
Jim – AVVO
Jim was an excellent choice for me. With the stress of my medical issues, Jim put me at ease talking to him. My questions are always answered in a very timely manner. I feel that I made a very wise decision in hiring Jim and would highly recommend him to anyone.
Jim – AVVO
Im always put me at ease and explained the process fully in a way that I understood. He respected my wishes while still recommending his professional opinion in a kind way. He showcased his expertise in many ways, but his knowledge base was especially seen during the most stressful times of the case. 
Jim – AVVO
Jim was amazing, he always called and kept me up to date on my case, let me know what was going on. He doesn't stop til the job is done!
Jim – AVVO
Jim was very professional, knowledgeable, and willing to work hard to achieve a successful conclusion. I found Jim to be a very caring person and easy to discuss details of my case with. If needed, I would not hesitate to have him work for me again.
Jim – AVVO
Mr Spiros was there for us. With the legal problems we had he stepped in and was there guiding us all the way. He landed a settlement that was much larger then we had though we would have gotten. He and his staff are very easy to work with, they are prompt in responding to your needs, and lay out the whole picture for you.
Jim – AVVO
⦁ Jim Spiros is an intelligent, experienced, and skillful attorney. He showed creativity, tenacity, and the ability to play hardball when need be. Even more important to me, with us he was empathetic, supportive, patient, and a great advocate. 
Jim – AVVO
Jim is great for workmen's comp cases. Jim and his firm were there every step of the way and explained things to me in a manner that the common working person could understand. He is very versed in the process that I was going through and was able to let me know how the process would work before it happened. At a time when I was unable to work and my future was undetermined it gave me piece of mind.
Jim – AVVO
James Spiros was a very trusting, compassionate lawyer who works diligently to get what he can for his clients. My husband & I were very impressed by his knowledge and enjoyed working with him
Jim – AVVO
Jim and his staff keep me informed throughout the case. They were very helpful in our situation offering the guidance we needed for a positive outcome.
Jim – AVVO
Mr. Spiros is very thorough and very helpful. You won't find a better attorney to go to bat for you. I was very pleased with the results. 
Jim – AVVO
Mr. Spiros and his staff were very professional and supportive and they immediately began working on our case. Mr. Spiros worked hard to ensure that we received exactly what we were entitled too. We are very grateful that we had James Spiros and his team helping us through this difficult time. Justice was served.
Jim – AVVO
Mr.Spiros was excellent at handling my workers 'comp. case. Words cannot express how much l appreciate Mr. Spiros for his legal assistance during the most difficult time of my life. If I had any questions or concerns, he responded to me quickly and professionally. 
Jim – AVVO
James Spiros is not only a top notch attorney but a very compassionate man. He and his staff helped me thru a bad time in my life with guidance and knowledge of my rights with my work injury. I'm glad to say the case has been settled but without Jim Spiros by my side the results would have been different. 
Jim – AVVO
Mr. Spiros provided exceptional service. He was honest and upfront about the process of taking on my case. He was always in contact with me, keeping me informed and having my best interest in mind. He was easy to speak with, and patient with my questions. I was very satisfied with the outcome.
Jim – AVVO
Mr Spiros office was professional and courteous and answered all my questions, and I received my settlement in a timely manner. I would use Mr Spiros again.
Jim – AVVO
I truly am beyond thankful for the careful thought and detail that was put into my case from day one! Jim and Matt were attentive, dedicated and invested the entire time and made sure I was taken care of. I can't thank you enough for advocating for me and my case like it were your own. I feel a positive sense of closure to such a hard time in my life
Matthew
Andrew was very professional and listened closely as my father explained what he wanted. This was not one of the million dollar deals that you read about, but Andrew treated my father and his claim as if it were. He was treated with first-class attention and first-class representation. I appreciated all that Andrew and Spiros Law did for my father.
Andy
Andy Purcell made my case as easy as possible on my end. He knew I was dealing with alot of pain and recovery. 10/10 I would recommend giving them a call!
Andy
Mr. Purcell is an outstanding lawyer and clearly one of the best in the area. Mr. Purcell handled my case in a very professionally matter. I would gladly recommend him to family and friends.
Andy
It was a very emotional journey, but Miranda always kept us informed of the status of how things were going and was a great comfort for my daughters and I. She would cry and laugh along with us, and was so very, very kind and supportive. She became like family.
Miranda
Miranda is a very caring and professional person. I would recommend her and Spiros law to anyone in need of experts.
Miranda
Miranda and the rest of the team helped me with all my questions and were very supportive during the entire process. Thank you all.
Miranda
I was very impressed with the experience I had with Miranda Soucie. She is always on top of everything and guided me through my situation with care and compassion. I highly recommend her!
Miranda
Miranda is a wonderful Lawyer to work with. I had a difficult case and she never hesitated to work it for me! Great Attorney!
Miranda
Miranda Soucie made the work comp claim a lot easier to deal with then having try figure out by myself. I would recommend her or any of her team to anyone who needs help they made a bad situation into a less stress full situation and made sure taken care of during and after it was all done
Miranda
We worked with Miranda Soucie and she was great! Very helpful and always quick to answer any questions we had along the way. Would definitely recommend her.
Miranda
My confidence in Miranda Soucie was immediate and she is very compassionate, genuine and honest, regardless if it was not always what I wanted to hear.
Miranda
Miranda did a great job for me. She held tough and did not let the insurance company bully her. Her tenacity resulted in a much bigger settlement than I imagined. Highly recommend.
Miranda
Nice staff and I have had the pleasure working with Miranda for my case. Hiring her helped me tremendously and I could stay focused on my academic work.
Miranda
Ms. Soucie is absolutely amazing. She is always there to answer questions and her knowledge and drive never fails to impress me. Highly recommend!
Miranda
Sandy Lobe was there to talk to us, I don't know what we would of done without her, so much paper work, questions that we didn't know about. Sandy took care of everything for us.
Sandy
I could not have asked for more from Sandy Loeb or the staff at Spiros Law.
Sandy
The Spiros Law place was Very Clean, Friendly Secretaries, A++ Service all around, I highly recommend Sandra K. Loeb and Anyone else at Spiros Law.
Sandy
Sandra was an excellent lawyer, she took my case even though it was risky, many lawyers would have not, we tried everything we could, she worked hard, as did I, but we did get a settlement and she listened to me to push for more which made a difference. Sandra and her team are hard workers and I recommend them.
Sandy
Jim and Miranda's professionalism, knowledge and tenacity are beyond reproach. We would highly recommend the firm!
Jim
Thank you Miranda and Jim. You guys are a wonderful hard working team but yet show compassion and more than highly would recommend them to anyone. Words are not enough to thank you for what you have done for us and thank you from the bottom of our hearts!
Jim
Jim and his staff are incredibly professional and timely. I always felt like I understood where the process was and what was the expected outcome. Jim Spiros did exactly what he told me he would do and settled the case in my favor.
Jim
They handled the details and over a million dollars in medical bills and we still came out much better than we ever dreamed. I strongly recommend this team.
Jim
Jim and his staff were great to work with and kept me in the loop throughout my case. They answered my calls and emails promptly and I especially appreciated Jim's honesty and directness when decisions needed to be made.
Jim
I could not have asked for a better lawyer and paralegal. I have never met a law office that treated you like family. I am so thankful for everything.
Jim
Working with Jim Spiros and his staff made my experience more pleasurable. During a difficult time it was comforting to know that I could call and get answers and my case resolved with my best interest in mind.
Jim
Jim is professional and thorough, yet always personable and will take all the time necessary to make sure you are satisfied with how you and your case are being represented. I always recommend Jim Spiros and his law firm to anyone needing an attorney who will treat them like a friend, and not just a client. Jim will get the job done.
Jim
Working with Jim and his staff made my trying times a lot better and worry free,thank you for caring!!
Jim
Working with Jim made what would have been an incredibly stressful event in my life so much easier! Highly recommended!
Jim
I truly am beyond thankful for the careful thought and detail that was put into my case from day one! Jim and Matt were attentive, dedicated and invested the entire time and made sure I was taken care of. I can't thank you enough for advocating for me and my case like it were your own. I feel a positive sense of closure to such a hard time in my life
Jim
This firm is great. Andrew Percell is a straight shooter. He knows all the jive but keeps it clear with his clients. I felt like a person there not just a client. I must say I did not expect the compassion and professionalism to blend so well. Go no further this is the team you want on your side.
Andy