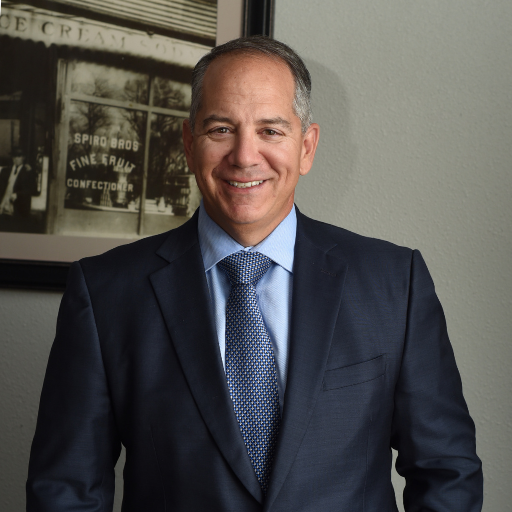 As the founding partner of Spiros Law, P.C., Jim is a skilled litigator with extensive experience handling cases involving medical negligence, defective drugs and devices, workplace injuries, serious traffic and trucking accidents, nursing home neglect and abuse, and wrongful death. Jim's growing list of significant victories has earned Spiros Law, P.C. a reputation as the go-to firm for injury cases in downstate Illinois.
One of 2019's Leading Lawyers Avvo Profile for James D. Spiros, Personal Injury Lawyer
Jim is unwavering in his commitment to helping "the little guy." As such, he has always strives to offer the highest quality of representation to those who might otherwise lack the opportunity to have their cases heard. He secured the second highest jury verdict in the history of Vermilion County, with a $9.8 million verdict on behalf of an injured minor. In 2019, he secured a $4.85 million verdict for a Vermilion County medical malpractice case. He also resolved a wrongful death case resulting from a motor vehicle collision on I-57 in Kankakee for the sum of $2 million dollars and resolved a motorcycle collision case in Edgar country for $2.25 million dollars. Other notable cases include a $3.3 million settlement he secured on behalf of a Vermilion County family against a Champaign County hospital and the largest settlement ever reported in Ford County, Illinois, of $1.45 million as well as a $1.4 million settlement in a medical negligence case for the improper administration of medication at a Central Illinois hospital, and $4.9 million for the family of a young woman killed by a truck driver, of a national retail chain, who was driving under the influence. In 2019 he secured a jury verdict of $4.85 million in a Vermillion County medical malpractice case.
Jim's skill in the courtroom has earned him recognition by his peers throughout Illinois. Every year since 2003, he has been named by the Chicago Daily Law Bulletin as one of the leading lawyers in the State of Illinois, and in 2019 he was also added as an Advisory Board Member. Jim has also been included in the exclusive Leading Lawyers listing, an honor extended only to those lawyers who are the most recommended by their peers in statewide surveys. Jim has earned this honor each year since 2004. He has also been recognized as a 2018 Super Lawyer, another listing of outstanding lawyers who have attained high degrees of peer recognition and professional achievement. He is also a member of The Million Dollar Advocates Forum, an organization consisting of trial lawyers throughout the United States who have achieved verdicts, arbitration awards, or settlements in an amount totaling one million dollars or more.
Jim has been an author and guest lecturer for the
Illinois Institute of Continuing Legal Education
, the
University of Illinois College of Law
, and the
Illinois Trial Lawyers Association
. He has written articles appearing in both Tort Trends and Trial Magazine.
He earned his undergraduate degree from Purdue University, and his J.D. from The John Marshall Law School in 1994. He is active in various conservation, civic, youth, and sports organizations. He has a passion for the outdoors. He and his wife, Stephanie, have two sons.